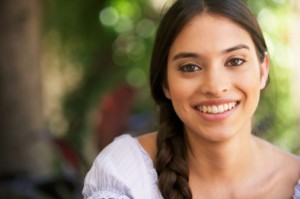 Modern technology makes dental care more precise, more comfortable, and simpler. Advanced dental tools and equipment can help Dr. Ganjoor evaluate details about your oral health and make more accurate diagnoses and treatments. Here's how our special technologies can help save your smile.
Detecting Oral Cancer
At your regular checkups with Dr. Ganjoor, she will provide an oral cancer screening. When caught early, oral cancer has a 50 to 80 percent survival rate. Unfortunately, it is not always detected early enough to be treated. Many times, the first sign of oral cancer is a visible sore or bump inside your mouth. Dr. Ganjoor will examine your mouth for any noticeable changes or suspicious areas. In addition to a visible screening, Dr. Ganjoor uses the VELscope tool to further evaluate areas of your mouth. The VELscope will scan your mouth and a blue light will highlight areas of concern. The VELscope screening takes about two minutes and can save your life from oral cancer.
Digital Dental X-rays
Dental x-rays give Dr. Ganjoor a behind-the-scenes view of your mouth. She can examine your teeth, gums, and underlying bones to check for signs of tooth decay, gum disease, misalignments, and other problems that may not be visible with the naked eye. Unlike traditional x-rays, digital x-rays give off 90 percent less radiation and are immediately available for viewing. Dr. Ganjoor also uses 3D Cone Bream X-rays to view your bone architecture and tissue. This tool is necessary when considering implant placement, root fractures, endodontic procedures, and extractions. It also helps identify causes and treatments for snoring and TMJ disorder. Intraoral cameras also allow Dr. Ganjoor to get a closer view inside your mouth.
Our advancements and dental technology can help protect your mouth by detecting problems earlier and more accurately. These precise dental tools can also help our patients feel more relaxed, comfortable, confident, and protected. Call (214) 851-0130 to schedule an appointment with Dr. Ganjoor at Celina Family Dentistry in Celina, TX. We welcome patients from Celina, Prosper, Gunter, Frisco, Anna, Pilot Point, McKinney, and other nearby communities.