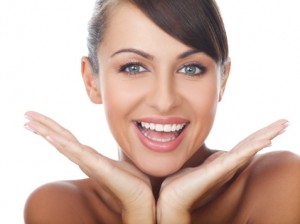 A bold, bright smile can improve your appearance and confidence. Dr. Newton offers the cosmetic treatments you need to show off your pearly whites and achieve the smile of your dreams. Here's how we can help brighten your smile.
Removing Tooth Stains in Celina
Dr. Newton uses the LumiBrite in-office whitening system to lighten the shade of your teeth in just one visit. Our professional whitening treatment uses a desensitizer and specialized whitening agent to remove stains from your teeth. Additionally, we offer custom take-home whitening trays to leisurely brighten your smile at home.
Hiding Tooth Flaws in Prosper
If your teeth are chipped, discolored, gapped, or uneven, Dr. Newton can cover the surface of your teeth with bonding or veneers. During composite bonding, Dr. Newton will apply a liquid resin to your tooth, tint and shape it to match your natural form, and then harden and buff the material. Veneers are ceramic restorations that are typically stronger than bonding. Dr. Newton will apply thin porcelain shells to your teeth to hide all your imperfections. She also offers Vivaneers, a minimal-prep option to veneers.
Reshaping Smiles in Gunter
Dr. Newton offers tooth and gum recontouring to help reshape your smile. For your teeth, contouring can soften sharp edges and repair uneven tooth lengths. Gum contouring is a process that exposes more of your tooth's crown. Dr. Newton will remove excess gum tissue and shape your gum line to create a symmetrical smile. Reshaping your teeth and gums can also make it easier to clean your mouth.
Cosmetic dental treatments are right for you if you are looking to remove, mask, or repair your tooth imperfections and leave with a bright, flawless smile. At your appointment with Dr. Newton, you can discuss all your concerns and desires to begin designing your dream smile. Contact Celina Family Dentistry at (214) 851-0130 to request a cosmetic consultation. We welcome patients from Celina, Prosper, Gunter, Frisco, Anna, Pilot Point, McKinney, and surrounding communities.