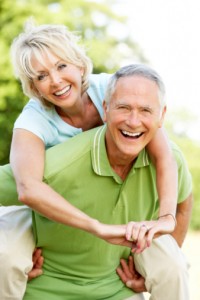 The American Cancer Society (ACS) reports that about 40,000 people will be diagnosed with oral cancer this year. While one-fourth of patients diagnosed with oral cancer don't have any risk factors, the majority of oral cancer cases can be prevented with proper care and diagnosis. This week, April 22-28, is Oral, Head, and Neck Cancer Awareness Week, and Dr. Ganjoor would like to decrease your risk of developing oral cancer.
What is Oral Cancer?
Oral cancer is classified as cancer that occurs in the mouth, lips, gums, cheeks, throat, tongue, or any other area of the oral cavity. The most common symptoms of oral cancer include mouth sores that bleed easily or don't heal, pain that doesn't go away, lumps in the throat or cheek, and white or red discoloration of oral tissues.
How to Prevent Oral Cancer
According to the ACS, oral cancer is twice as common in men as in women. Additionally, people over the age of 55 are more likely to develop oral cancer. Your family health history also influences your risk of disease. While these factors may not be in your control, other lifestyle habits can increase your risk of oral cancer. Take these precautions to lower your risk:
Limit tobacco use. Tobacco is responsible for about 80 percent of oral cancer cases. In fact, just one pack of cigarettes a day increases your risk of oral cancer 4.5 times. The best way to prevent oral cancer is to avoid smoking.
Reduce alcohol consumption. The ACS shows that about 70 percent of patients diagnosed with oral cancer drink alcohol frequently. Furthermore, people who combine heavy drinking and smoking are about 100 times more likely to develop oral cancer than people who don't drink or smoke.
Control sun exposure. Studies show that many patients with lip cancer have outdoor jobs associated with prolonged exposure to ultraviolet radiation. Limit the time you spend outdoors, and make sure you wear a hat, sunscreen, and lip balm to protect your face from the sun.
Eat a healthy diet. A diet low in fruits and vegetables is associated with an increased risk of oral cancer. Studies show that limiting red meat may also decrease your risk of cancer.
Visit Dr. Ganjoor. At your regular dental checkups, Dr. Ganjoor will examine your gums and soft tissues to check for visible changes. She also uses the VELscope tool to detect tissue abnormalities with a light beam.
According to the Oral Cancer Foundation, one person dies from oral cancer every hour. However, early detection allows for early treatment, which contributes to an 80 percent survival rate. To schedule your oral cancer screening in Celina, contact Dr. Ganjoor at Celina Family Dentistry at (214) 851-0130. We welcome patients from Celina, Prosper, Gunter, Frisco, McKinney, Aubrey, Pilot Point, Anna, and surrounding areas.