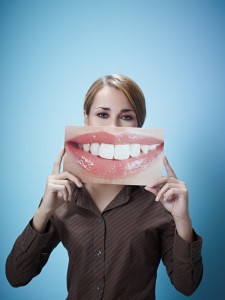 Blemishes on your teeth can greatly diminish the radiance of your smile. The most common tooth blemishes are stains, which have made teeth whitening a burgeoning industry. At Celina Family Dentistry, we offer a number of solutions for your teeth whitening needs, but your best treatment option depends on the type and severity of the tooth stains you wish to correct. Some stains soak into the outer surface of a tooth (extrinsic), while others originate from within the tooth structure (intrinsic) and are more difficult to correct. To help you determine the best treatment option, Dr. Angela Ganjoor offers an explanation on the difference between intrinsic and extrinsic stains.
Intrinsic Tooth Stains
Tooth development begins in an infant during the second trimester of pregnancy and lasts until about the age of 18. During this time, children may intake too much fluoride (i.e. through fluoridated tap water, fluoride toothpastes, etc.) which can lead to mottled enamel with chalky white, and sometimes brown, stains. Bleaching can lessen the contrast between mottled and healthy enamel, but if surface defects, or "pits," are present, you may need porcelain veneers or dental bonding to whiten your smile. Certain medications can cause intrinsic tooth staining, as well. The most notorious culprits are tetracycline and its derivative, monocycline. If taken during tooth formation, these antibiotics can cause bluish-gray stains on the portion of tooth that is forming at the time. Other causes for intrinsic tooth stains include heredity, aging, porcelain over metal crowns, and amalgam dental fillings, which can give your tooth a grayish appearance even if the metal filling is not visible.
Extrinsic Tooth Stains
Extrinsic tooth stains affect the surface of a tooth, or the outer layer, which is enamel. The majority of extrinsic stains are caused by dark pigments in foods and beverages, including coffee, tea, and red wine. Smoking and tobacco use are also leading causes of extrinsic staining. Most extrinsic stains are treatable during a regular dental cleaning at Dr. Ganjoor's office. However, if stains penetrate the enamel, you may need chemical whitening or restorations to rectify the blemishes.
After a comprehensive exam to determine the cause of your stained teeth, Dr. Ganjoor will recommend the best treatment for improving the look of your smile. Contact Celina Family Dentistry at (214) 851-0130 to schedule an appointment. We welcome patients from Celina, Prosper, Gunter, Frisco, Anna, Pilot Point, McKinney, and surrounding communities.