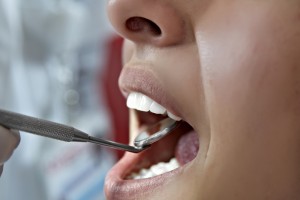 According to the Oral Cancer Foundation, close to 40,000 Americans will receive a diagnosis of oral or pharyngeal cancer this year. Though cancer is a scary prospect, early detection can make all the difference in a patient's prognosis. Oral cancer, in particular, has a 50 to 80 percent survival rate when discovered at an early stage. Technology, and a trusting partnership between patient and doctor, can make all the difference in oral cancer detection. Your Celina dentist, Dr. Angela Ganjoor, explains what an oral cancer screening entails.
Early Signs of Oral Cancer
You shouldn't panic every time you have a bump or sore in your mouth. Most often, the bump will have a benign cause. However, this can be an early sign of oral cancer, so it is important to keep an eye on the amount of time that the sore persists. Soap opera star, Colleen Zenk Pinter, says that her oral cancer began in the form of something she thought was a canker sore. The bump would appear to heal, and then recur, finally persisting long enough to prompt  a dental examination. Mouth bumps that don't show signs of healing after a week are worthy of an appointment with the dentist, just to double check.
The VELscope
At your regular bi-annual checkups, your dentist will look for any signs of change, or suspicious areas in the mouth. If there is cause to consider oral cancer, the use of a VELscope tool may be used for further evaluation. VELscopes scan the mouth with a blue-spectrum light that will make soft tissues in the mouth fluoresce. Dentists are trained to view the patterns under the light, to discern between healthy tissue and abnormal tissue. The VELscope is a safe, simple, and efficient tool. Examination with the VELscope only takes about two minutes.
Advances in dental technology can help detect problems early, but keeping up with your bi-annual checkups is an important piece of the puzzle. Dr. Ganjoor is dedicated to providing comfortable oral cancer screenings to her patients, including use of the VELscope. Call (214) 851-0130 to schedule an appointment  at Celina Family Dentistry in Celina, TX. We proudly serve patients from Celina, Prosper, Gunter, Frisco, Anna, Pilot Point, McKinney, the 75009 zip code, and surrounding communities.