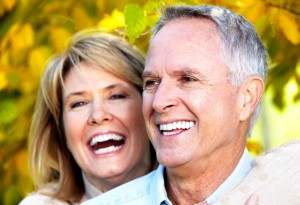 When you have a missing tooth, you may notice a difference in your usual habits. Chewing and speaking will not feel the same with a void between your teeth. In addition, if you are missing one of your anterior teeth, or front teeth, you may also find yourself hiding your smile. However, one of the most frustrating consequences of tooth loss may not be readily apparent. Our Celina family dentist will explain some of the dangers of untreated tooth loss and how restorative dentistry can bridge the gap.
The Consequences of Tooth Loss
Unfortunately, tooth loss will not only affect your smile image and your tooth function. Ignoring a missing tooth can lead to much more serious consequences. Since each of our teeth serve a specific purpose, once one tooth is missing, the surrounding teeth will attempt to make up for the loss. Some teeth drift out of place, and other incur chewing pressure not meant for their size or shape. The result is excessive tooth wear, which could lead to tooth decay or even further tooth loss. In fact, five years after losing a tooth, your chances of losing another tooth increase by 20 percent.
What a Dental Bridge Can Do for You
So how can you avoid these devastating consequences? Our Celina dentist, Dr. Newton, offers restorative dentistry options to replace your missing teeth. The dental bridge replaces one or more missing teeth in an arch using artificial teeth attached to porcelain crowns. The dental crowns bond to existing teeth surrounding the void, while the artificial teeth hover over your gum line, almost undetectably. The tooth replacement will prevent teeth drifting and excessive tooth wear. Dental bridges can restore your ability to chew and speak with ease while avoiding the costly consequences of untreated tooth loss.
Replacing Missing Teeth in Celina
For more information about replacing missing teeth, contact our Celina dentist, Dr. Newton. At Celina Family Dentistry, we offer dental implants, partial dentures, and full dentures in addition to dental bridges. You can call our Celina dental office at (214) 851-0130 to schedule an appointment. We welcome patients from Celina, Prosper, Gunter, Frisco, McKinney, Aubrey, Pilot Point, Anna, and surrounding areas.