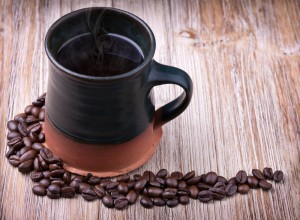 Are you an avid coffee drinker? Some people drink their coffee with unabashed pride, while others are often embarking on a quest to get the coffee monkey off their backs. Is coffee good or bad in terms of your mouth and teeth? Celina dentist, Dr. Angela Ganjoor, will examine the pros and cons of coffee in relation to your dental health.
The Good News About Coffee and Dental Health
A recently published study from the American Cancer Society (ACS) in Atlanta, Georgia, led by author Janet Hildebrand, suggested coffee drinking could lower the risk for mouth and throat cancer. Scientists will have to continue trials to discover if caffeine is the real hero, with high levels of polyphenols, antioxidants, and other cancer-fighting compounds, or if other elements in coffee might share responsibility for the potentially lowered cancer risk. In any case, health information compiled from 968,432 men and women over the course of 26 years of showed that people that drank four cups of coffee each day had a 49% lower risk of dying from oral/pharyngeal cancer.
 The Bad News About Coffee and Teeth
Between bad breath and stained teeth, that morning jolt might still be worth it, but does not come without a price. People that opt for teeth whitening, whether professionally or over-the-counter, may find themselves trying to quit coffee to prolong results. The simple fact is, yes, coffee does contribute to more severe staining on teeth. Furthermore, continuing to drink coffee regularly after teeth whitening will diminish the length that your brightening results are noticeable. If you want whiter teeth without giving up coffee, consider drinking it through a straw. This might seem unusual and take away from the enjoyment of sipping coffee from a mug, but it is one way to have your coffee and drink it, too, without obvious dulling on your pearly whites.
Teeth Whitening in Celina
Are your teeth dull and stained from years of coffee drinking? We offer professional teeth whitening in the Celina area.  Schedule an appointment with our 75009 dental office by calling (214) 851-0130 today. Located in Celina, we proudly serve patients from Prosper, Frisco, Allen, and neighboring communities.