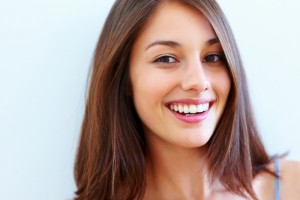 Your smile is as unique as your fingerprints, and much like your general health, so are the issues that can afflict it. Celina dentist, Dr. Angela Ganjoor, takes pride in crafting personalized treatment plans that fit our patients' specific needs and desires, and offers a wide range of tools to meet those needs in a conservative manner. For instance, tooth damage caused by decay can vary in severity from mild to critical. Precision is vital to effectively halting the cavity and restoring the damage, while still upholding the integrity of what's left of your healthy tooth. If the damage is minor, a traditional tooth filling may suffice to remove the decay and reinforce the tooth. Severe tooth decay, however, can render the tooth too weak to support the amount of filling necessary, in which case a dental crown may be placed over the tooth to shield it from damage. Sometimes, however, the level of decay can be too much for a filling, but not enough for a dental crown. Rather than wait for it to progress enough to justify a crown, Dr. Ganjoor can restore your tooth with a dental inlay or onlay.
A Dental Restoration that's Just Right
Capping your tooth with a dental crown typically requires the removal of some tooth structure. Manipulating your tooth unnecessarily can cause more damage to your tooth and allow an infection to develop again. Meanwhile, dental fillings were meant for minor restorations, and placing a large amount of filling material may not be enough to keep the remaining tooth structure strong. Inlays and onlays address this middle ground and provide an option that's just right for treating your unique level of tooth decay.
Often created from gold, porcelain, or white composite resin (the same material used for discreet dental fillings and bondings), inlays and onlays are essentially the same type of restoration, the only difference being surface that they cover. Inlays are placed in between the cusps of your tooth's chewing surface, inside the cusps. If the one or more of the cusps are damaged, an onlay is used to cover the cusp as well as the chewing the surface. Usually, inlays and onlays are classified as indirect restorations, meaning they must be crafted from a mold and may require more than one visit.
Strong, Healthy Smiles with Celina General Dentist
To learn more about restoring strength and health to your teeth, or to find a dental restoration that's right for you, schedule an appointment with Dr. Ganjoor at our Celina general dentist's office by calling (214) 851-0130. Located in the 75009 area, we serve patients of all ages from Celina, Prosper, McKinney, Frisco, Anna, Pilot Point, and the surrounding areas.