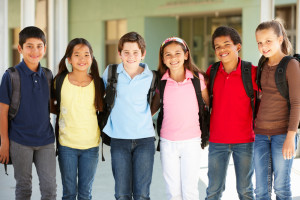 It's that time of year again. If kids in your neighborhood are not back to school quite yet, they're probably getting pretty close. This is a good time to remind parents that poor oral health in children can relate to poor academic performance. To help you make sure that your child's teeth aren't affecting their grades, your Celina children's dentist, Dr. Angela Ganjoor, will remind you of the steps you and your child should be taking for their dental well-being.
Brushing and Flossing
Your schedule is bound to get more hectic when the lazy days of summer are over. Trying to get yourself ready for work and your child ready for school at the same time can sometimes send you running out the door neglecting some of the family's basic self-care needs. If you've ever heard your child say "I forgot to brush my teeth" as the bus is about to pull away, you're not alone. Consider making a checklist of morning tasks so you and your child can stay on track and make sure nothing is forgotten. A solid two minutes is recommended for each brushing, and don't forget to floss.
Eat Healthy
Sugar and refined carbohydrates greatly increase your risk of developing tooth decay. Unfortunately, many of the foods that your child is likely to prefer in their school lunches are going to be full of sugar and carbs. If you set aside time each night to involve your child in packing their lunch, you can guide them to making more balanced choices while they still feel like they're getting treats. Try baking cookies together on the weekend, cutting back on the sugar or using a natural sweetener like stevia. Encourage your child to take bottled water instead of juice.
Family Checkups from Your Celina Dentist
Don't forget dental checkups and cleanings for the entire family. If you are due for a bi-annual checkup, or have questions about our restorative, cosmetic, and preventive dentistry services, contact your Celina children's dentist at our 75009 dentist office by calling (214) 851-0130. Located in the 75009 area, we serve patients of all ages from Celina, Prosper, McKinney, Frisco, Anna, Pilot Point, and the surrounding areas.