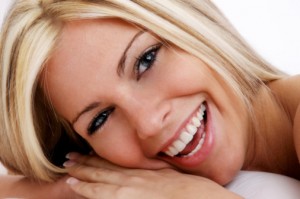 Celina Family Dentistry is a comprehensive dental office. Our team is dedicated to providing you and your family with all of your preventive, cosmetic, and restorative dental needs. At each of your preventive dental examinations (recommended every six months) we will evaluate your mouth to determine the state of your oral health. Celina cosmetic dentist, Dr. Ganjoor goes beyond that, however, and also takes your dental desires into consideration. If you desire a change in your smile because of cosmetic flaws, there are many options to solve a variety of concerns.
Cosmetic Dental Treatments
Cosmetic services are sometimes as simple as teeth whitening in a single appointment, or as complicated as a smile makeover which involves several dental procedures at once. Here are some of the common dental complaints we see in our office, and the methods we use to solve them:
Chipped, gapped, broken, overlapping, or slightly crooked teeth: Porcelain veneers or Snap-On Smile may be the treatment for you.
Very slight chips or tiny flaw in just a few spots: Dental bonding is one of the simplest and quickest procedures.
Crooked teeth or a misaligned bite: Invisalign invisible braces can straighten your smile without anyone ever knowing.
Deep stains or yellowing: Teeth whitening options include fast in-office whitening and at-home professional teeth whitening kits.
Restorative Treatments
Restorations are sometimes necessary before cosmetic dental work is appropriate. You must have a healthy foundation or we'll end up covering over bigger problems that will ruin your cosmetic efforts after a short time. Tooth decay and gum disease are infections, and require treatment as such. Fillings, extractions, root canals, crowns, and periodontal therapy are the various ways that we can stop the germs from spreading and damaging your mouth any further.
Comprehensive Dentistry from Celina Dentist
Dr. Ganjoor will take a full oral exam to determine which treatments will help keep your smile healthy and beautiful. Our team is happy to discuss all your questions and concerns to help you feel confident in your dental treatments. For your smile analysis, contact our dentist office in Celina, TX, at (214) 851-0130. We serve patients from Celina, Prosper, Gunter, Frisco, Aubrey, Pilot Point, McKinney, and surrounding communities.