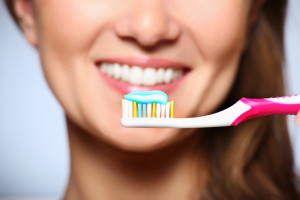 Healthy gum tissue is designed to fit snugly around your tooth roots to hold your smile firmly in place. However, if periodontal disease strikes, gingival tissues become infested with germs. Inflammation and recession allow gums to pull away from the teeth.  One of the earliest signs of gum disease is bleeding. Celina dentist, Dr. Angela Ganjoor explains that if you're seeing any blood when you brush or floss, you might want to make an appointment with your dentist to see if you have any of the stages of gum disease.
Gingivitis
The mildest form of periodontal disease is called gingivitis. No stage of gum disease is entirely curable, but gingivitis is the most treatable. How does gingivitis start? When plaque builds up on your teeth, it hardens into tartar within about 48 hours. This is why brushing and flossing is such an essential habit. Between good dental self-care and biannual dental cleanings, gingivitis is maintainable. Scientific research is underway all the time to find a cure for periodontal infections because when the bacteria is not controlled, severe gum disease causes much greater problems than bleeding gums.
Periodontitis
If you continue to have poor dental habits after gingivitis has developed, the infection will eventually progress to full-blown periodontitis. Severe gum disease allows the inner layer of gingival tissues and bone to pull away from your teeth. The pouches that form are called periodontal pockets. These small spaces collect food debris and bacteria, deepening the infection. As gum disease progresses even further, the periodontal pockets will grow larger and destroy gingival tissues and jawbone. The end of this story may well be tooth loosening or complete loss of permanent teeth.
Dental Cleanings with Celina Dentist
For a dental cleaning, contact your Celina dentist at our 75009 dentist office by calling (214) 851-0130. Located in the 75009 area, we serve patients of all ages from Celina, Prosper, McKinney, Frisco, Anna, Pilot Point, and the surrounding areas.