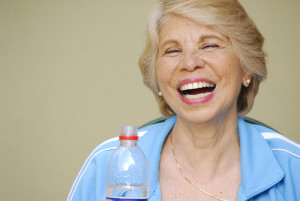 At the Celina, TX dentist office of Dr. Angela Ganjoor, we're doing our part for Oral, Head, and Neck Cancer Awareness Month throughout April 2014. It seems that everyone has lost someone dear to cancer, and oral cancers are no exception. Dr. Ganjoor explains that the term oral cancer encompasses cancer of the lips, tongue, gums, and mouth, with some extending the definition to include throat cancer. These three simple steps will improve your chances of early detection or even prevention.
Step 1: Know the Risk Factors of Oral Cancer
Lifestyle and diet are the greatest risk factors for developing cancer of the mouth. Cigarette smokers and people who use chewing tobacco are significantly more vulnerable, as are those who consume excessive amounts of alcohol over a long period of time. Not all risk factors are entirely preventable. For example, studies show that a link may exist between cancer and heredity. Men over the age of 40 are more likely to be diagnosed with oral cancer than women.
Step 2: Recognize the Symptoms
Each year in the United States, dentists and doctors diagnose more than 43,000 new cases of oral cancer. Of these men and women, nearly half of them—about 43 percent—will not survive another five years. If you recognize any of these common oral cancer symptoms or warning signs, Dr. Ganjoor advises a timely phone call to our office for an exam:
Splotches of red or white tissue inside your mouth
Small sores in the mouth that do not heal within 14 days
Problems chewing, swallowing, or speaking
Numbness in the mouth or face area
Chronic hoarseness or sore throat
Step 3: Think Long-Term Care and Awareness
Not all patients experience these symptoms during the earliest stages of the disease. Painless sores and discoloration affect only the inside of the mouth, making them less noticeable to patients. Unfortunately, this means that many patients do not receive a diagnosis until the disease has spread to other areas of the body, usually the lymph nodes or throat. The most efficient way of diagnosing oral cancer, then, is visiting your Celina general dentist every six months for screening, exams, and professional cleaning. Many dentists screen for the disease by performing a visual inspection of the mouth. Dr. Ganjoor combines a visual examination with the use of VELscope technology. A small, handheld scope shines a special blue light into the patient's mouth. Under the light, areas of abnormal tissue or growths appear more brightly colored than areas of healthy tissue.
Don't become another oral cancer statistic. To learn more about early detection of cancer and other oral health threats, or to schedule an appointment with Dr. Angela Ganjoor, contact our Celina dentist office at (214) 851-0130. We welcome patients living in Anna, Frisco, McKinney, Pilot Point, Prosper, and the surrounding communities.