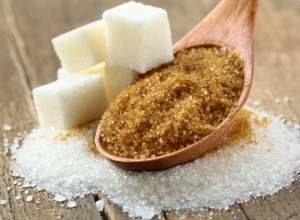 You know that sugar is bad for your teeth and not very good for your body either. However, do you know all of the places where sugar hides? Obvious sources for sucrose include candy, soda, and ice cream. You would probably register shock if you knew that certain smoothies which claim to be healthy have as much sugar as a chocolate bar. Here are five more high sugar sources to beware of from Celina dentist, Dr. Angela Ganjoor.
Five Top Sugar Sources
Drink powders such as lemonade, fruit punch, sweetened iced tea, and protein powders are sometimes as much as 94% sugar. Check those labels before you quench your thirst with liquid cavities.
Soy sauce, ketchup, and many dressings/dips are often sources of hidden sugar. Chocolate syrup may seem like a harmless additive to your child's milk or your evening ice cream binge, but the rich substance is often 50% sugar. Don't be fooled by labels boasting low fat or low salt properties as they often counter the flavor loss with added sucrose.
Dried, candied fruits are in the range of 50 – 80% sugar. Again, labels are your friends, as they will tell the true story as to whether or not a food is actually healthy.
It's no shock that sugar is a key ingredient in cookies, but you may be surprised which type of cookie is one of the worst offenders. Macaroons contain about 71% sugar, so don't let the coconut (a healthy ingredient on its own) fool you.
Cereal seems like a healthy choice for breakfast, but many companies are notorious for marketing breakfast cereals as healthy because of added nutrients, ignoring how high their sugar content is. If you want a healthy cereal, classic oatmeal with fresh fruit is naturally sweet, delicious, and satisfying.
About Dr. Angela Ganjoor
To learn more about how laser dentistry can help you achieve the healthy, beautiful smile you've always wanted, schedule an appointment with Dr. Angela Ganjoor at Celina Family Dentistry by calling (214) 851-0130. Located in the 75009 area, we serve patients of all ages from Celina, Prosper, McKinney, Frisco, Anna, Pilot Point, and the surrounding areas.