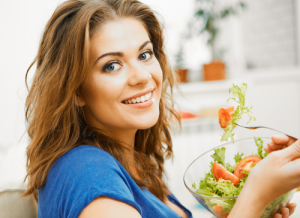 How have you enjoyed 2015 so far? We're almost a month in and people across the country are hard at work to meet their New Year's resolutions. We feel it's never too late to add another resolution: A brighter smile. With the right preventive action, you can help reduce your risk of developing embarrassing discoloration on your teeth. Let's look at 6 ways you can brighten your smile.
Brighten Your Smile Tips
Drink More Water: For many people, soda, energy drinks, or sports drinks are preferable to drinking water. However, water does more than just keep us hydrated. When you drink water, you don't coat your teeth in sugars, which reduces the chances of developing stained teeth.
Eat Healthier: Do you consume a lot of foods high in sugar and other starches? Candy chips, and other treats can have an adverse affect on the health and appearance of your smile. By adding more fresh fruit and vegetables to your diet, you can keep your smile brighter.
Receive a Teeth Cleaning: You should have your teeth cleaned at least once every six months. In addition to fighting gum disease and tooth decay, a dental cleaning can improve the esthetics of your smile as well. By removing plaque and polishing your teeth, you can walk away with a more attractive smile.
Don't Forget to Have a Checkup: As with a cleaning, you should have a checkup once every six months. During a checkup, we will watch for the warning signs of developing dental issues, including addressing discoloration in the early stages.
Quit Smoking: Smoking can stain your teeth, however, more serious consequences include heart disease, lung cancer, and oral cancer.
Brush and Floss Regularly: With routine dental maintenance, you reduce the chances of developing teeth stains, as well as gum disease and tooth decay.
ABOUT YOUR CELINA FAMILY DENTIST:
To learn more, schedule an appointment with Dr. Angela Ganjoor at Celina Family Dentistry by calling (214) 851-0130. Located in the 75009 area, we serve patients of all ages from Celina, Prosper, McKinney, Frisco, Anna, Pilot Point, and the surrounding areas.