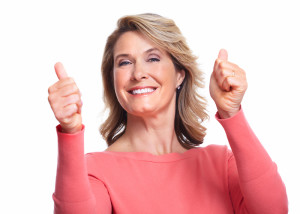 When you smile, if you feel like people see more gums than teeth, you may be a good candidate for the contouring that a gum lift can provide. A gum lift involves the careful removal and reshaping of gum tissue so that it frames the teeth in the most attractive way possible. After a gum lift, teeth will appear more appropriately sized for your smile, and gum tissue will appear more even distributed around your teeth.
We Start by Evaluating Your Teeth and Gums
At at consultation appointment, we will discuss your image of an ideal smile.  We will also evaluate the overall condition of your teeth and make sure there are no underlying issues that need to be addressed. If there are signs of gingivitis (early gum disease) or periodontitis (the more severe stage of gum disease) or other areas that need restorative dental procedures, we can work with you on a plan of action to get those issues cleared up before moving forward with a gum lift. If your gums and teeth are already in good shape, we can move directly to schedule the procedure.
What Is The Next Step?
We will carefully evaluate how much gum tissue should be removed, and in what locations. Generally, the goal is to have an attractive balance of teeth and gums. Along with a more attractive smile, contouring the gum line can make it easier to remove plaque from just under the gum line when you brush and floss. The gum reshaping can be done in our office, using a laser. There is usually little bleeding, thanks to the cauterizing effect of the laser. It won't be long until you are enjoying a smile that is a beautiful balance of gums and teeth.
ABOUT YOUR CELINA FAMILY DENTIST:
To learn more, schedule an appointment with Dr. Newton at Celina Family Dentistry by calling (214) 851-0130. Located in the 75009 area, we serve patients of all ages from Celina, Prosper, McKinney, Frisco, Anna, Pilot Point, and the surrounding areas.