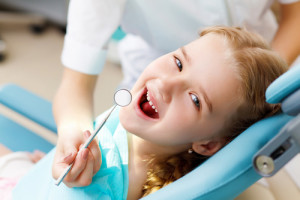 Before you know it, you'll be hearing school bells and seeing yellow buses again. The back-to-school season is right around the corner, and now is the time to schedule your back to school cleanings and checkups. When you're running your back to school errands and scheduling those annual doctor's appointments, make sure to schedule time at the dentist too. Making good oral health a priority and a natural part of your end-of-summer routine teaches your children good dental care habits that will stay with them for a lifetime.
Why Dentist Appointments are Important for Kids
Everyone, young or old, should visit the dentist every six months — but regular dental appointments are especially important for children. Children are more susceptible to tooth decay, and regular cleanings at the dentist's office help prevent cavities. There's more to an appointment, though: It's important to visit a children's dentist who will monitor your child's oral development and evaluate their bite and teeth alignment.
What to Teach Your Children About Dental Care
Establish healthy oral hygiene habits with your children from an early age, so they will be more likely to continue good oral health into adulthood. It's vital to teach your children these dental care basics: children must carefully brush their teeth twice per day, floss daily, and use fluoride products to strength tooth enamel and prevent cavities. Encourage them to drinks lots of water, avoid sugary beverages, and eat sweets in moderation.
Start Back to School with Fresh Oral Hygiene
You begin a new school year with fresh school supplies and back-to-school clothes, so why not revamp your dental care routine with a fresh set of oral hygiene supplies for back to school? Get your child as excited about taking care of their teeth as they are about their new binders and shoes: Let your child pick out a new toothbrush, floss, and toothpaste to try something fresh for the new school year.
ABOUT YOUR CELINA, TX, DENTIST:
To learn more about the comprehensive family dental care we provide, schedule an appointment with Dr. Angela Ganjoor at Celina Family Dentistry by calling (214) 851-0130. Located in Celina, TX, we also welcome patients of all ages from Prosper, McKinney, Frisco, Anna, Pilot Point, and the surrounding communities.