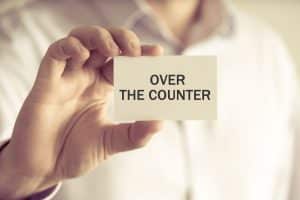 What's all this about OTC versus professional cosmetic care, you wonder? What does OTC mean? Can't you just whiten your smile with the home remedies you keep seeing online? We know that doing what you can to make your smile look its best is a huge priority. However, if you take avenues that are insufficient or dangerous, you may end up with poor results and damaged teeth. In short: The only care you should receive for esthetic improvements is professional care. As for those details, let's explore this topic further.
What Is OTC?
When we talk about OTC cosmetic care, we are referring to over-the-counter. That means products that you might order online or that you pick up at your local drugstore. This could include teeth whitening strips, for instance. The reason we strongly suggest against such products follows: They are not formulated to minimize sensitivity, they are not customized to your needs, and they will not provide the exceptional level of results provided with professional treatments.
Additional Reasons To Seek Professional Care
Now you know that your own OTC or DIY (that's do-it-yourself) methods aren't going to help you arrive at the results you want. However, a light bulb might go off in your mind when you think, "Well, I'll just be careful. I'll use treatments multiple times to get the results that I want!" Unfortunately, ingredients are often very harsh, which means multiple uses can yield serious damage. So, consider the following about cosmetic care with us:
You will avoid wasting money on OTC products and can instead invest in a safe, effective treatment
We offer a variety of treatments unavailable elsewhere, including bonding, contouring, veneers, and different levels of teeth whitening, so you get exactly what you need for your smile
Say Yes To Professional Cosmetic Care
Getting the care you need to make your smile lovely and bright means coming in to discuss the best professional cosmetic care treatment for your goals. Get the information and treatment you need in Celina, TX by contacting Celina Family Dentistry to schedule a visit today at (214) 851-0130.