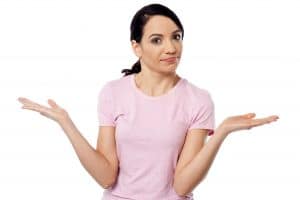 What you likely feel completely sure about is that you want a smile that looks better. What you aren't sure about is if you need Fastbraces or if you could actually just fix your concerns with something like bonding or veneers. Since sitting at home and wondering about this will not get you any closer to the final answer, we have a simple suggestion: Come on in!
Take Time To Talk
You aren't going to be able to figure out whether you need Fastbraces or something else from home. Even if you were to give us a call and offer a full description of your concerns, we would not be able to say for sure. We need to see you, talk with you, see your teeth, understand your vision of your future smile, and then explain candidacy for either orthodontics or cosmetic care.
What's What?
It's important to recognize that when you have an actual misalignment, it means that your top teeth and bottom teeth aren't fitting neatly together. In this case, the method of improvement required is orthodontic care, which would include Fastbraces. Now, if your smile doesn't look beautifully straight but your bite is okay, this is considered an esthetic issue that we can address with cosmetic care, such as bonding, contouring, or veneers.
The Final Answer
We'll help you determine the best course of action for your smile when what you want is a feature that looks beautiful. You may need Fastbraces to physically move teeth into an alignment that is both balanced and attractive. You may only require cosmetic care for issues like minor spacing, the illusion of asymmetry, and more. Then again, we might suggest both depending on your unique issues. See? It's definitely time to come in to see us for further information.
Learn About Fastbraces And Your Options For A Straight Smile
Talk with us about Fastbraces, about cosmetic care, and about the best pathway that will lead you toward a smile that makes you proud. Get the information and treatment you need in Celina, TX by contacting Celina Family Dentistry to schedule a visit today at (214) 851-0130.