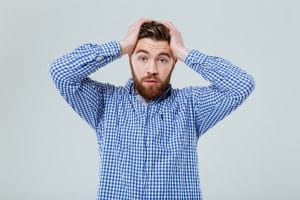 A clenched jaw is a recognizable sign a person is experiencing stress, or anger. In a single instance, you are not likely to do much harm by grinding your teeth. However, if you continually perform this act, you could wind up with real damage to your smile, and problems with TMJ dysfunction. How do people find themselves clenching their jaw so often that it causes oral health issues? Bruxism sufferers grind their teeth unconsciously while they sleep, and may have no idea that they are doing potential damage. You might notice something is wrong because you wake up with pain or sensitivity in your teeth, jaw joints, and face. During a routine dental checkup, your Celina, TX dentist can identify a problem by examining the degree of wear and tear on your teeth.
Stop Bruxism From Doing Harm To Your Teeth, And Your Smile
Over time, bruxism can lead to wear and tear that worsens how you look when you smile. You could also do enough harm to make restorative dental work necessary for especially damaged teeth. Fortunately, it is possible to protect yourself against this habit of teeth grinding, thanks to your dentist. A specially made appliance you wear at night can keep your teeth safe, so you do not damage them while you sleep.
Are You Worried About Wear And Tear? Cosmetic Dental Work Can Make Valuable Improvements
Cosmetic dental work can make corrections to smile problems that are created when your teeth accumulate wear and tear. After your issues with bruxism are addressed, your dentist can use porcelain veneers to hide the damages that have been done by a teeth grinding habit.
Talk To Celina Family Dentistry About Nighttime Teeth Grinding
At Celina Family Dentistry, patients who grind their teeth at night can count on support to help put a stop to this problem. In addition, you can learn how cosmetic dental work is able to cover up signs of damage, so you will not have to worry about the lasting effects of this habit. To find out more, schedule an appointment with Dr. Angela Ganjoor at Celina Family Dentistry by calling (214) 851-0130. Located in Celina, TX, we also proudly welcome patients of all ages from Prosper, McKinney, Frisco, Anna, Pilot Point, and the surrounding areas.