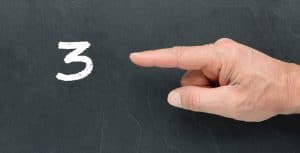 Yes! You are ready for Fastbraces and you couldn't be happier. Within such a short amount of time, you'll see your smile undergo an exceptional transformation from "okay" to "amazing." While you're very excited about visiting our Celina, TX practice to receive your treatment and you can't stop thinking about how beautiful your future smile is going to be, you may feel a little concerned about the process. Will you be able to make it through, eat your snacks and meals, and all without accidentally damaging your treatment or feeling frustrated? The answer is: Of course! Assuming you follow our simple suggestions, that is!
#1: When You Need A Fork And Knife
Our team wants you to remember that when you're eating something that needs to be broken down into smaller pieces, you are going to want to be careful. Remember, when you have Fastbraces on, you don't want to ask your teeth to do this. Consider the following: You shouldn't try to eat corn off of a cob, tear into a bagel, bite into an apple, etc. Instead, become very reliant on a fork and knife! Cut the corn off of the cob. Cut the bagel into smaller pieces. Cut that apple into slices. Be careful and eat slowly, so you don't damage anything.
#2: When Food Is Hard Or Crunchy
Don't want to have to come in suddenly because of a broken bracket? Then be extremely careful when biting into hard, crunchy foods, even if you have already cut them into pieces. Chomping down into a crazy-hard cookie, a big carrot, etc., can leave you with damage (which will leave you in need of a visit and fix). Just practice caution and you will be A-OK.
#3: When It's Something That Can Wind Around Your Brackets
Anything that has the potential to become wound around and stuck around your brackets and wires is something you should do your best to avoid. You want your smile to look beautiful, which is why you have chosen Fastbraces, so let the system do its job! Gum, caramels, etc., should wait until you're done with your treatment.
Take Our Help Seriously For Effective And Successful Fastbraces
Enjoy your experience with Fastbraces when you take our simple yet helpful advice to heart! Get the information and treatment you need in Celina, TX by contacting Celina Family Dentistry to schedule a visit today at (214) 851-0130.