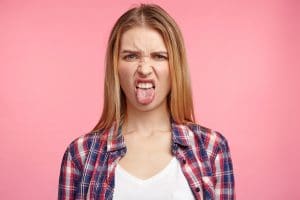 Would you say that at this point, your dental hygiene is making you gag? Are you sure about why this is happening? In most cases, the answer from our Celina, TX patients is, "No!" If you knew what was going on and how to fix it, you would have tried already, of course. However, you may not really know where to go from here. Try to make things better by guessing? Come in to see our team? First, begin with some simple suggestions that can make quite an impact. Then, if you're still gagging and aren't certain about the next step to take, bring yourself to our practice for a visit!
When It's Flavor Related
A particular flavor, whether associated with a toothpaste or dental floss, can be something that makes you gag. We remind you: If it gets your gag reflex going, this isn't the dental hygiene product for you. Switch immediately for a much better outlook.
When It's Caused By Your Motions
Some patients find that though they feel perfectly okay with the flavors, scents, and more associated with dental hygiene, they're having problems while they brush or even while they floss. In such a case, we remind you: It may simply be that you're too rough and too fast with your motions. If you're brushing gently and flossing delicately, and your taking your time, you're much less likely to trigger your gag reflex. If you're rushing and you are jamming your brush toward the back of your throat, this intrusion may not be well tolerated by your body, so you gag. Ease up. Take two minutes to brush. Be gentle. You may find that you enjoy a much more comfortable experience.
When It's Figurative
Does the idea of dental hygiene make you gag because you cannot stand to do it? Do you feel tired, annoyed, or "so over" the idea? What is it that is bothering you? We remind you that when you're not having a good experience, it's best to take time to assess what you think the underlying issue might be (perhaps it hurts, maybe you are feeling rushed, you might feel as though you're guessing a lot but you're not really sure if you're doing things right). Then, bring your feelings and concerns to our attention with a dental checkup. When you have already been dealing with a dislike of this preventive care at home for some time, you could really use a professional opinion and a fresh perspective. Our advice will help you enjoy a 180 as you look at hygiene with fresh eyes!
Enjoy Dental Hygiene Again!
Find out how to stop the gagging and enjoy your dental hygiene again, so you can continue with effectively protecting your oral health without concern. Remember to bring up questions with us if you need professional advice. Get the information and treatment you need in Celina, TX by contacting Celina Family Dentistry to schedule a visit today at (214) 851-0130.