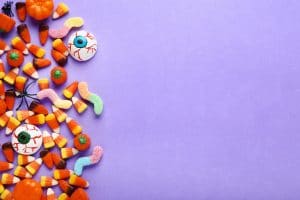 Nope, we're not planning on making any suggestions for arts and crafts projects, cool ideas for costumes, or anything like that. As you may have already guessed, our Celina, TX dental team is on the scene to provide you with some very important tips for making it all the way through your Halloween festivities without accidentally incurring any type of damage, upset, decay encouragement, and more! Are you saying, "phew!" and wiping your brow because you've already been feeling a bit tense about having a nice time, without feeling panicked about your oral health at every second? Not to worry. We've got the help you need!
If It Can Pull On Your Dental Work, Skip It
Not terribly interested in losing a dental crown this Halloween? You would prefer to keep your Fastbraces where they are, rather than derailing your treatment? We thought so! Remember that even when you're not the recipient of any type of dental work, it's still important to be very careful will any type of candy or treat sticky and strong enough to pull hard on your smile. Highly tacky, chewy stuff can lead to damage, leaving you with an immediate oral health problem, so simply skip it!
If You Think It Could Crack A Tooth, Skip It
We also remind you that when you get carried away with the fun of Halloween, it can become very easy to start chomping into things that you would usually not find yourself eating on a random night. So, when you are faced with a jawbreaker or other very, very hard item, we suggest you put it aside (forever). Cracking a tooth, damaging dental work, and more are oral health problems that can arise much more easily than you might imagine, simply from eating tough foods.
If You're Not Sure, Avoid It!
Find yourself staring at something and feeling unsure about whether it's a good or bad choice for your oral health? Again, we encourage you to skip it. Feel free to discuss it with us during your next checkup and making future decisions from that point. Risking serious damage simply isn't worth the risk!
Rinse, Brush, And Floss!
It seems very simple but we always remind patients to rinse with water after candy. Then, remember to brush (and floss) before you go to bed. It's basic but all-powerful (when completed consistently) for smile protection!
Get The Info You Need For Holiday Smile Protection 
Clue us into your thoughts, when you're feeling unsure about how to make it through a particular event or day, while protecting your oral health. Ask questions and we will always provide helpful advice! Get the information and treatment you need in Celina, TX by contacting Celina Family Dentistry to schedule a visit today at (214) 851-0130.