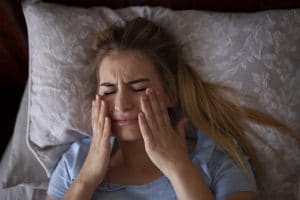 People who tend to grind their teeth at night can look forward to less than ideal mornings, as they can wake up with facial and jaw pain, as well as sore and sensitive teeth. This problem, known as bruxism, can do more than just make the start of your day less pleasant – over time, grinding and clenching your teeth can do serious damage to them. The effect can change your smile for the worse by wearing down teeth, and you can potentially suffer chips and cracks to your enamel. Our Celina, TX dental practice is prepared to help patients who struggle with this problem. A custom oral appliance can keep your teeth protected while you rest, so you are free from painful mornings, and no longer at risk for dental damage.
Why Do I Have A Problem With Teeth Grinding?
People who start to grind their teeth can develop the problem for different reasons. It can be a byproduct of stress or anxiety, and may result because of tobacco or alcohol use. It is also possible that your teeth grinding is a symptom of TMJ disorder, a term that refers to persistent issues with your jaw joints or muscles. While it may not be possible to pinpoint the exact reason why you grind your teeth, a custom appliance can protect you against the trouble this issue is able to cause.
Using A Special Appliance To Protect Your Smile While You Sleep
A custom oral appliance that you wear at night can be provided to you by your dentist. Designed to fit comfortably in your mouth, your appliance is able to keep your teeth apart during the night, so grinding and clenching no longer occur. This can protect you against damage that can make cosmetic dental care necessary. Wearing your guard also helps reduce jaw stress, which can alleviate chronic pain over time.
Addressing Existing Damage To Your Teeth
Cosmetic work can help restore the appearance of your smile if dental wear and tear affects your teeth. In many cases, the placement of porcelain veneers, or a dental bonding procedure, can correct problems you have with the way you look. However, if you have suffered more significant damage to teeth, restorative dental work can be beneficial. In addition to improving your smile, having a crown placed on a damaged tooth can help you bite and chew more comfortably.
Talk To Celina Family Dentistry About Your Bruxism Concerns
At Celina Family Dentistry, we are ready to help patients struggling with bruxism. Persistent teeth grinding can become a serious problem for you over time, as your smile and oral health can be negatively affected. To find out more, schedule an appointment with Dr. Angela Ganjoor at Celina Family Dentistry by calling (214) 851-0130.