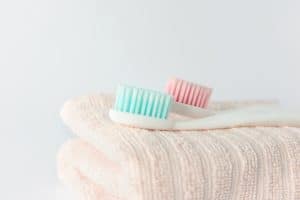 When you brush your teeth, you clear away harmful bacteria and food debris that can cause you to experience oral health issues. If you are consistent and thorough enough at this, you can protect yourself well enough to consistently avoid problems with tartar buildup. Unlike plaque deposits, which you can remove on your own, tartar deposits can remain on your teeth over time. Buildup can actually remain in place until your next professional dental cleaning, which can raise your risk for problems that require restorative dental care. At our Celina, TX dentist's office, we are ready to help you take care of tartar buildup. We can also provide tips on better brushing and flossing so you have more protection against a future accumulation of this harmful substance.
Why Is Tartar Such A Concern?
When tartar deposits form on your teeth, they can increase your risk for cavities. You can also experience a heightened risk for gum disease if the accumulation happens at your gum line. When this occurs, it can be difficult to lower your risk for these problems because brushing and flossing alone are not able to dislodge these deposits. What this means is that until you have your teeth cleaned by your hygienist, the presence of tartar means you are more likely to struggle with gingivitis, or develop decay that requires a dental filling or dental crown.
Prevent Tartar Formation With Thorough Brushing And Flossing
You can use your brushing and flossing routine to effectively keep tartar accumulation from becoming an issue. Plaque deposits can be effectively removed by you, which makes it possible to stop tartar from forming. Brushing effectively does not mean using greater force to clean your teeth – it is actually possible for too much force to cause an increase in harmful friction to your enamel. You should focus on taking more time to cover every surface of every tooth whenever you clean your smile.
Rely On Your Dental Cleanings To Keep Your Teeth Safe From Harm
When it is time for your next routine dental exam and cleaning, your hygienist will work carefully to clear away tartar deposits, plaque buildup, and any food debris that might be stuck to teeth. These regular cleanings help you by making sure harmful agents are completely removed from your enamel. Of course, these visits are also important because you have a chance to have your dentist thoroughly look over your smile for any signs of trouble.
Your Celina, TX Dentist Can Help You Fight Tartar Formation
At our Celina, TX dentist's office, patients who are struggling with tartar accumulation and other dental problems can count on our support. To learn how we can help you, please call Celina Family Dentistry today at (214) 851-0130.