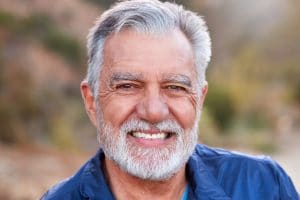 Prosthetic dental work can help you grow more comfortable with your appearance by making your smile appear complete once again. Because it is possibly to secure a permanent prosthetic, the work of restoring your complete smile can also help you bite and chew with greater comfort. Our Celina, TX dentist's office has provided this restorative dental work for patients with different degrees of tooth loss. The right procedure can increase your comfort with biting, chewing, and speaking while also raising your confidence levels. A restoration secured with a dental implant can also provide support to prevent issues with jawbone deterioration, a problem that can worsen over time after tooth loss.
Enjoy The Support Of A Permanent Prosthetic Appliance
How dependable can a dental prosthetic be once one has been put in place? Your secured restoration can handle the pressures created when you bite and chew, which means you can once again feel at ease using a natural bite motion. In addition to reducing wear and tear on your remaining teeth, this correction can reduce pressure on your jaw joints and muscles that can lead to chronic pain.
What Type Of Restoration Is Right For You?
A dental bridge remains in place thanks to a pair of dental crowns at each side of the appliance. One or several replacement teeth situated between these crowns can provide support for your bite while also having benefits for your smile. This approach to restoring a person's complete smile will not require oral surgery, which can make it a less intrusive solution. With that said, a dental implant's placement removes the need to modify teeth surrounding a gap. You can also count on your implant to stimulate your jawbone, which sends a signal to your body to once again deliver nutrients to the bone. That loss of nutrients after tooth loss can lead to your jawbone losing mass, an issue that can affect your appearance as well as your oral health.
Life After Receiving A Dental Prosthetic
A dental prosthetic can do more than just make you happier with your smile. The appliance you receive should remain in good condition over the years as you trust it to help you bite and chew food. During future dental exams, your dentist can check on the condition to confirm that it is still in good condition.
Discuss Prosthetic Dental Work With Your Celina, TX Dentist
Our Celina, TX dentist's office has experience taking care of patients who have experienced tooth loss and want to show off a complete smile again. After selecting the right approach to closing your smile gap, we can arrange treatment that improves your appearance as well as your dental function! To find out more about our practice, call Celina Family Dentistry at (214) 851-0130.