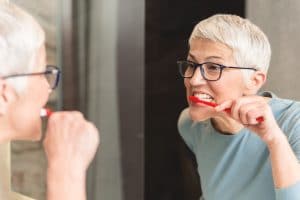 Are you concerned about the formation of a cavity, and determined to make it your last? Have you grown alarmed by difficulties maintaining your oral health? While different people can have different degrees of difficulty with cavity prevention, there are certain measures that can help anyone avoid problems with poor dental health. One thing you should certainly do is make sure you have access to professional preventive dental care. Our Celina, TX dentist's office helps patients avoid problems through professional teeth cleanings, as well as through oral health evaluations that can identify problems in their early stages. With access to your dentist's support, and a more thorough routine at home, you can have greater success controlling your risks for cavities!
Take Another Look At Your Approach To Brushing
How confident are you in your brushing routine? Sometimes, people fail to identify ways in which they are not effectively protecting their smile against plaque and tartar buildup. One mistake you can make is holding onto the same toothbrush for too long a time. After three months, it is time to pick up a replacement. You should also check on how much time you give yourself when you brush – the process should take at least two minutes if you want to clean every part of your smile.
Dehydration Can Make It Harder To Avoid Cavities
A glass of water can do more good for your smile than you might realize. People who do not consume enough water can experience physical effects of dehydration, including dry mouth. If you have dry mouth, you lose out on smile protection due to a lack of saliva flow. Saliva helps us wash away food debris, and it also provides support against oral bacteria. If you want to fight dehydration, you should stick to water. While other beverages can be find in moderation, the regular consumption of soft drinks, sports drinks, and other products can increase your risk for teeth stains and cavities.
What Are You Doing To Address Tartar Buildup?
If you are brushing and flossing thoroughly on a daily basis, you should be able to stop tartar from forming. However, you may find it difficult to avoid tartar if you are leaving areas poorly served, or if you are sometimes skipping brushing and flossing. As part of our preventive services, we provide patients with thorough cleanings that remove tartar accumulation.
Discuss Cavity Prevention At Our Celina, TX Dentist's Office
Your Celina, TX dentist's office is prepared to help you if you are struggling with cavity troubles. Through our preventive services, we can also help you defend your smile against problems like tartar buildup and gum disease! If you would like to learn more about our services, please call Celina Family Dentistry at (214) 851-0130.