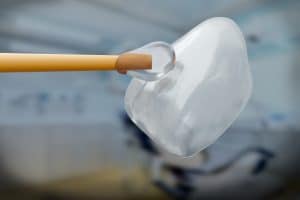 Sometimes, we see patients who have more than one esthetic issue impacting their smiles. To help them obtain a completely new smile, we may suggest porcelain veneers. These thin restorations act as a mini-smile makeover, addressing a wide array of issues with a tooth's color and shape. In today's blog, your Celina, TX, dentist will talk about the benefits of improving smiles with porcelain veneers.
Crafting Custom Veneers
To ensure not only a proper fit, but the most lifelike appearance possible, we custom-make each one for your smile. We start by removing a thin layer of enamel from the tooth and then take detailed impressions and measurements. Using this information, we begin designing and creating each individual veneer for your smile. When complete, you return for a second visit so we can place the restoration with a powerful bonding agent. The restoration then has the ability to last for many years to come, so you enjoy a stunning new smile in as little as two visits!
The Benefits of Porcelain
We create them from porcelain for a number of different reasons. For example, the material is durable and can absorb daily bite forces and serious pressure. We often use them for crowns for that reason! The material is also translucent like tooth enamel, so we can actually shade them to blend with your smile. Prior to placement, we may whiten your smile to ensure your completed restorations match your brightest possible smile.
A Makeover for Your Smile
When we place them, they instantly improve both shape and color. For example, we can mask permanent teeth stains, the kind of discoloration that forms beneath the enamel and may not respond to teeth whitening. We also help reshape malformed or damaged teeth, even correct minor chips or cracks. We help lengthen the teeth worn down by teeth grinding and also close embarrassing gaps between your teeth. If you have minor misalignment, we could correct the appearance of your smile, so you avoid the need for braces or aligners. If you have any questions about a smile makeover with our custom-made and natural looking porcelain veneers, then contact our team today. We want to help you obtain a stunning and vibrant smile, one you cannot wait to show the world when you laugh and smile!
Talk To Your Celina, TX Dentist's Office About Cosmetic Smile Makeovers
At our Celina, TX dentist's office, we offer a number of cosmetic treatments to improve the overall beauty of your smile, and that includes our lifelike and long-lasting porcelain veneers, as well as professional teeth whitening and bonding and contouring. Find out more about our cosmetic restoration options by calling Celina Family Dentistry at (214) 851-0130.