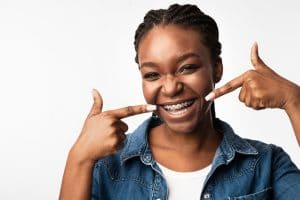 Correcting misalignment not only improves the overall beauty of your smile, but has been shown to boost overall oral health as well. However, people often worry about the time commitment of braces. After all, doesn't treatment automatically mean two or more years of wearing braces? To offer a shorter time frame, your Celina, TX, dentist may suggest the Fastbraces® system, which provide optimal results in as little as six months!
The Value of Correcting Misalignment
When we have crooked, crowded, or overlapping teeth, this could lead to serious complications for our oral health. For example, uneven teeth may be difficult to thoroughly brush and floss, which means food particles could stay trapped between the teeth and allow tooth decay and gum disease to form over time. For others, the pressure on the jaw joints due to misalignment could mean a higher risk of issues like TMJ disorder and bruxism (teeth grinding), leading to headaches, pain in the face and jaw, and even damaged teeth. You could also simply feel embarrassed about your smile, with your uneven teeth impacting your overall quality of life.
How Do Braces Typically Work?
The process begins with metal brackets being affixed to the front facing side of each tooth. A band is then used to secure the arch wire to each bracket. During periodic visits, the dentist will adjust the tension in the wire, which begins shifting the teeth into new positions gradually over time. The process often takes so long because the gum tissues and jawbone structure need to reform around the new positions, and the roots need to be removed before the crown, or visible, portion of the tooth.
The Benefits of Fastbraces®
With Fastbraces®, our team will move the roots and crowns at the same time! The system employs triangular brackets and a unique arch wire. The brackets are less visible, and the results occur in a fraction of the time, with some people seeing optimal alignment in as little as six months! If you have any questions about treating poor alignment with this unique cosmetic orthodontic option, then please contact our team today. We want to help our patients enjoy optimal oral health, tackling common issues like tooth decay, gum disease, tooth loss, and yes, minor and severe dental misalignment.
Your Celina, TX Dentist Provides Quality Orthodontic Options
At our Celina, TX dentist's office, our team wants to help you obtain a straighter smile, and improved oral health, by correcting your uneven teeth using unique cosmetic treatment options. The appearance of our smile has a major impact on our confidence and oral health. Find out more about our cosmetic orthodontics and other treatment options by calling Celina Family Dentistry at (214) 851-0130.