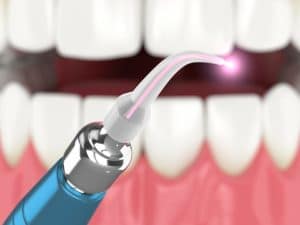 When we discuss cosmetic dentistry, we often focus on the teeth. Teeth whitening removes stains, while bonding and porcelain veneers correct the shape and color of the teeth. Fastbraces® and ClearCorrect® correct the position of the teeth to straighten the smile. But what about the gums? Various factors could cause you to develop swelling, or excess or receding gum tissues, altering your smile's appearance. Fortunately, your Celina, TX, dentist knows how to correct these common issues with gum contouring!
Gummy Smiles and Other Esthetic Issues
A gummy smile means there is too much gingival tissue on display when you smile. As a result, your gum line could be uneven, which in turn makes the teeth look uneven. Your teeth could also look small as well. The issue could occur naturally due to excessive tissues, or due to swelling in the gums. We will perform a detailed examination with advanced technology to assess the cause and extent of your cosmetic issues. We will then decide if you need a cosmetic gum contouring procedure.
The Contouring Process
We will plan the procedure carefully, and then employ dental lases to target and remove excess tissues, reshaping your gum line in the process. The lasers target the tissues with greater precision and accuracy then a scalpel could, and prevents inadvertent damage to healthy tissues. The laser instantly cauterizes the treated area, which prevents bleeding and infection, and helps increase the healing time. Patients typically need to rest for about a day, and then they can return to normal activities. The procedure will also be comfortable, and in fact rarely needs anesthesia.
What About Periodontal Disease?
We also use dental lasers to help treat periodontal disease. For advanced cases, which threaten to cause periodontitis, the number one cause of adult tooth loss, we may use the lasers to target and remove diseased tissues. Healthy gingival tissues then attach to the teeth, closing periodontal pockets and allowing us to help you manage the disease with routine cleanings every three to four months, and regular brushing and flossing at home. If you have any questions about how we use laser dentistry to address cosmetic and preventive oral health issues, then please contact our team today. We would love to see you for an appointment, and our office is taking serious precautions to protect the health  and safety of our team members and patients, from spreading out appointments to ensure social distancing, to wearing PPE, including masks, face shields, gloves, and gowns.
Your Celina, TX Dentist Provides Periodontal Treatments
At our Celina, TX dentist's office, our team wants to help you obtain a more attractive smile, and that means more than simply removing stains for many patients. Find out more about our approach to cosmetic dentistry by calling Celina Family Dentistry at (214) 851-0130.