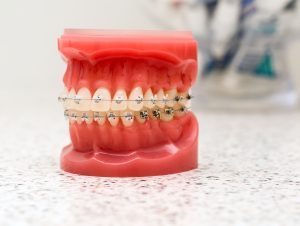 If you have crooked, crowded, or overlapping teeth, then the health and appearance of your smile could suffer. To enjoy better oral health and even teeth, you need to undergo orthodontic treatment. While this could typically take years to accomplish, your Celina, TX, dentist can help correct uneven teeth in as little as six months with Fastbraces®.
The Dangers of Poor Alignment
With uneven teeth, bits of food and particles from our drinks could become trapped between them, out of reach of your toothbrush bristles or floss. As a result, bacteria will break them down in a process that leads to plaque buildup and with it, an increased risk of tooth decay and gingivitis. For others, the pressure on the jaw joints and the changes to the bite balance due to uneven teeth could lead to TMJ disorder and bruxism (teeth grinding). Finally, you could simply feel embarrassed about the appearance of your smile, which impacts your social interactions and quality of life. However, with Fastbraces®, our team is ready to offer fast results for kids, teens, and adults.
Fastbraces®
Typically, braces take about two years, or up to two-and-a-half years to completely restore the smile and correct misalignment. The reason for the long time frame is because they must first move the roots, and then the crowns (the parts you see). The bone tissue and gums must then reform around each new position to hold them in place. However, with Fastbraces® we offer a much faster process because the system moves the roots and crowns at the same time. The system employs unique triangle brackets and an arch wire that are less visible than traditional braces, and still offer results that are attractive and boost the health and function of your smile. In all, many of our patients see noticeable results in as little as six months!
Keeping Your Smile Strong
Following treatment, we will discuss whether you need to wear a retainer for a short period. We will also remind you that with routine care, you can protect your newly-straightened teeth from harmful issues like tooth decay and gum disease. Be sure you brush and floss daily, see us every six months for a checkup and cleaning, and cut back on those sugary foods and drinks. With these steps, you avoid issues that could lead to tooth loss and with it, a return to a misaligned smile. If you have any questions about keeping smiles even and strong then contact our team today to learn more!
Talk To Your Celina, TX Dentist's Office About Cosmetic Orthodontics
Our team is ready to help transform your uneven teeth un just a few months. To find out more about how we treat issues like misalignment, then contact your Celina, TX, dentist, Dr. Ganjoor, by calling (214) 851-0130.