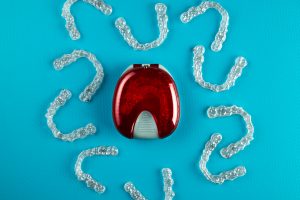 Last week, we explained how Fastbraces® could offer an even smile in only six months. Today, we would like to look at another unique orthodontic option. With ClearCorrect®, we use a series of nearly invisible aligners to shift the position of your teeth and correct misalignment. In today's blog, your Celina, TX, dentist will discuss the benefits of ClearCorrect®.
The Value of a Straighter Smile
A straighter smile helps improve the overall esthetics of your smile, which could boost confidence. However, treatment also offers improvements for overall oral health and function too. For example, uneven teeth provide places for food and drink particles to become trapped, which increases the risk of tooth decay and gum disease. For others, the alignment issues could strain the jaw joints and upset bite balance, in turn leading to TMJ disorder and bruxism (chronic teeth grinding). By addressing the position of your teeth, you help improve health, function, and beauty.
Creating Custom Aligners
While braces are effective, we know our teen and adult patients would prefer a less noticeable option. Instead of using metal brackets and wires, we will create a series of aligners from a clear and BPA-free plastic. To do so, we will take a series of digital images and impressions of your teeth, which we combine to create a 3D model. In a lab setting, the aligners will then be crafted. They will fit comfortably and help you avoid gum and cheek irritation.
The Treatment Process
Treatment means that a set of the aligners will be worn for 20 to 22 hours a day, over the course of about two weeks. At this point, you will move on to the next set in the series. The treatment process requires fewer office visits than braces do, and total treatment times take about a year for adults and around 18 months for teens. They can be removed before a meal, so you don't have to alter your diet or avoid certain items. Being removable also means you take them out before you brush and floss, so keeping your teeth clean and healthy during treatment is much easier than it would be with metal braces.
If you have any questions about how we use clear and cozy orthodontics to correct misalignment, then contact our team today. We would love to help you or a member of your family obtain a healthier smile with the ClearCorrect® system!
Talk To Your Celina, TX Dentist's Office About Clear Aligners
We're ready to offer you a practically invisible solution to your uneven smile. To find out more about our clear and comfortable orthodontic options, or about any of our other professional cosmetic treatments, then contact your Celina, TX, dentist, Dr. Ganjoor, by calling (214) 851-0130.