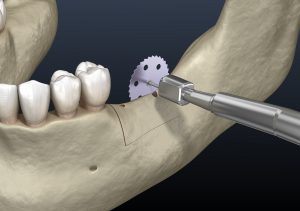 When you lose your teeth, this doesn't just cause gaps in your smile. In fact, you could begin to lose mass and density in the jawbone, which leads to an older appearance and further tooth loss! To restore lost mass and density in your smile and make it ready for implant placement, your Celina, TX, dentist will provide jawbone grafting and sinus lifts.
How We Lose Bone Density
When we lose several of our natural teeth, the body suspends the flow of calcium and phosphorus to the bone tissue around the missing tooth roots. Without these nutrients, the bone tissues loses mass and density, causing erosion and a breakdown. Not only do you lose additional teeth, but sunken cheeks, a ptotic chin, and other serious signs of aging could develop as well. If you lose enough mass and density, this could mean there isn't enough bone structure to support dental implants, potentially limiting your tooth replacement options.
The Complications for Dental Implant Placement
Dental implants actually help preserve the jawbone structure and facial structure too. Since they're made from biocompatible titanium and inserted into the jawbone, the body accepts them as natural roots. This stimulates the growth of bone tissue and supports your new teeth, while also preserving your youthful features. However, if there isn't enough bone structure to support them, this could mean implant placement could fail! Fortunately, we can rebuild your smile.
Grafting and Sinus Lifts
With jawbone grafting, also known as ridge augmentation, we use bone tissue taken from your hip or the rear of your jaw to rebuild the portions that have lost mass and density. We could also use donor or synthetic materials as well. With a sinus lift, we move the sinus floor above the dental ridge to provide new bone to insert a dental implant into. Your smile can also support new teeth! To ensure your comfort, we will offer anesthesia and sedation, and provide detailed aftercare instructions as you heal and prepare your smile for the placement of your new teeth.
We want you to enjoy a complete smile again, restoring your ability to eat your favorite foods, speak clearly, and smile with confidence. If you have lost one or more natural teeth, let us know and schedule a consultation right away. Our team will find out if you benefit from implants, and if your smile needs to be rebuilt with grafting and sinus lifts. If you have any questions, then contact our team today.
Talk To Your Celina, TX Dentist's Office About Rebuilding Your Smiles
Our team wants to help prepare your smile for replacement teeth. To learn more about how we approach improving the strengthen of your smile, then contact your Celina, TX, dentist, Dr. Ganjoor, by calling (214) 851-0130.