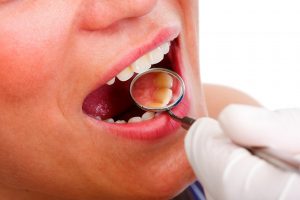 You should undergo a checkup twice a year, as routine exams and screenings are essential for keeping teeth and gums healthy and free of disease. In today's blog, your Celina, TX, dentist explains why you need a checkup, and how we use digital technology to make an examination with precision and accuracy.
When You Need an Exam
We suggest a visit every six months, so our team can monitor your smile for warning signs of possible concerns, from cavities and infections to gingivitis and gum disease. We also look for the warning signs of TMJ disorder and bruxism (teeth grinding), and will even screen for oral cancer. If in between your visits you notice changes to your smile, such as sensitivity or discomfort in the teeth, or bleeding in the gums, then call us right away for an exam, as these could be signs of tooth decay and gum disease. These checkups also benefit kids two and older too!
Checkups with Digital Technology
First, we will use digital x-rays to obtain clear images of your smile. This option uses 90% less radiation, and doesn't require you to bite down on uncomfortable bitewings. The images are available instantly, they don't need to be developed in harsh chemicals. We also take pictures with intraoral cameras. These tiny cameras at the end of a thin wand make taking detailed images quickly and comfortably possible. By displaying all this information chairside, we can walk you through the diagnostic process and help you better understand the current state of your smile.
Oral Cancer Screening
Once a year we also want to screen for oral cancer! Studies from the Oral Cancer Foundation reveal that 53,000 people are diagnosed every year, and of that number half will succumb to the disease in just five years. The high mortality rate is often due to the fact that the disease is rarely caught in the early stages. However, a screening means a greater chance of catching it early, which increases the chances of a full recovery. If you haven't scheduled a visit for you and your family to have your smile examined, then please contact our team today. We want to help you enjoy optimal oral health for the entire year, which starts with a simple checkup visit.
Talk To Your Celina, TX Dentist's Office About Your Next Exam
We want to help you maintain good oral health with routine exams and screenings. To learn more about the process of examining your smile, then contact your Celina, TX, dentist, Dr. Ganjoor, by calling (214) 851-0130. We also have dental cleanings and other preventive treatments designed to help protect you and your children from the onset of tooth decay and other serious oral health concerns.