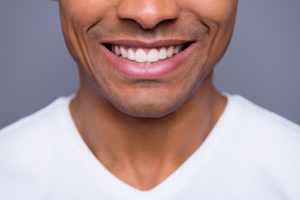 Fluoride helps prevent cavities by strengthening the outer enamel, and a dental filling treats a cavity once one forms. But what about cases of demineralization that are beyond traditional fluoride, but not serious enough for a filling yet? In these situations, your Celina, TX, dentist helps with the application of Silver Diamine Fluoride (SDF).
The Causes of Demineralization and Decay
The enamel on the outside of our teeth protects our smile from injury and bacteria. However, poor oral hygiene habits could allow plaque and tartar to coat the teeth. This bacterial buildup then begins to weaken and erode enamel, a process known as demineralization. Over time, this process eats through the enamel completely and bacteria makes contact with the inner dentin. A cavity then forms, one that will grow and spread unless treated. Common warning signs may include tooth sensitivity to hot or cold foods and drinks, or possibly a toothache.
Fluoride and SDF
Fluoride is a naturally-occurring mineral, one that has been shown to strengthen the outer enamel, For that reason, many communities add small amounts to tap water, which has been shown to reduce cavity risks in people of all ages. For kids, we also apply this mineral in a special varnish to help keep little smiles strong. With SDF however, we have a treatment to treat demineralization that is beyond traditional fluoride, but not severe enough for a filling. We apply the material and it provides a protective layer over the weakened portions of enamel, preventing a full-fledged cavity from forming! This is safe for people of all ages, from kids to adults.
When to See Our Team
You should always let us know if you or a member of your family reports sensitive or aching teeth, as this could mean the presence of an advanced cavity. However, if you attend visits every six months for a checkup and cleaning, then our team can keep a close eye on your smile to catch trouble in the earliest stages, treating it before you experience discomfort to need a filling. Even if you do need a filling, we have a lifelike option that can be placed in only one visit!
If you have any questions about how we help prevent cavities, or treat them with fillings and SDF, then contact our team today. We would love to help you enjoy a stronger smile, and avoid painful disorders like tooth decay.
Talk To Your Celina, TX Dentist's Office About Treating Tooth Decay
Our team uses preventive dentistry to help protect your smile and avoid the onset of poor oral health. To learn more about our unique preventive treatment options or to schedule your next checkup and cleaning, then contact your Celina, TX, dentist, Dr. Ganjoor, by calling (214) 851-0130.