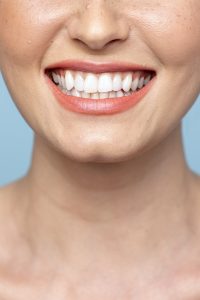 If you have stains on your teeth, then you may feel uncomfortable with showing your smile. To address this, you may need to undergo professional teeth whitening! Your Celina, TX, dentist offers a deep bleaching procedure to help brighten teeth and offer stunning results. In today's blog, we're discussing how our system works.
Teeth Whitening Treatment
Our professional system offers more dramatic results that last longer than the results store-bought strips and toothpastes provide. To accomplish this, we combine in-office and at-home whitening systems. First, you come to our office where we apply a bleaching gel to your teeth and activate it with a light. We also take detailed images and impressions to create a set of plastic trays. After your procedure, we send you home with the trays and gel.
At home, the trays will be filled with gel and worn for about 30 to 45 minutes a day. After one to two weeks, this will brighten teeth by up to eight shades! The leftover gel and trays can then be kept for touch-ups as needed in the coming months.
Keeping Smiles Bright
Following treatment, you can make a few simple changes to your daily routine to help your results last longer. For example, make sure you brush and floss daily, as this limits plaque buildup to keep teeth brighter. A visit every six months lets us clean and polish the teeth too, removing all plaque and tartar from the smile. You should also avoid tobacco products, and cut back on foods high in sugar or drinks with dark pigments. A better diet and healthy food and drink options could also help fight discoloration.
Masking Permanent Discoloration
Most teeth stains occur on the surfaces of your teeth, the result of the foods and drinks you consume, as well as your daily oral hygiene habits. These we remove easily with our teeth whitening systems. But what about intrinsic stains, which form underneath the surfaces of your teeth? These could be caused by certain medications, fluorosis, or injury to the smile. They may not respond to whitening, which is why we could use dental bonding to mask them in one visit. We could also place porcelain veneers, which instantly masks stains and also correct issues with the shape of the teeth too.
If you have any questions about how we remove stains, or what you can do to keep your teeth bright, then contact our team today. We can also help you find the best option to either remove or mask discoloration in your smile.
Talk To Your Celina, TX Dentist's Office About Cosmetic Dentistry
Our team wants to help brighten your smile and allow you to enjoy your best possible smile. To learn more about how we brighten your smile, then contact your Celina, TX, dentist, Dr. Ganjoor, by calling (214) 851-0130.