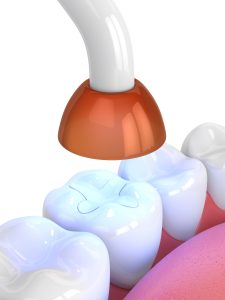 Just because you have a cavity, doesn't mean you need to have a metal restoration. Instead, we could opt for a tooth-colored version with composite resin. In today's blog, your Celina, TX, dentist wants to explain how to recognize cavities, and discuss the benefits of our tooth-colored composite resin dental fillings.
Crafting a Dental Filling
Each restoration is custom-made for your smile. When you have a cavity that needs attention, we will ensure your comfort by administering a local anesthetic. Next, we remove decay from the tooth and thoroughly clean it. Afterward, we prepare and place the filling material. The composite resin we use is free of metal and safe for all ages, and able to be shaded to blend with your tooth. Once the material is in place, the dentist will sculpt and mold your tooth as we cure the composite resin material. The last step involves polishing your smile completely.
Recognizing Tooth Decay
How do you know if you have a cavity? If you attend a checkup and cleaning visit every six months, then we will identify a cavity in the early stages of demineralization, so we can offer treatment before you experience pain. Otherwise, you have to wait for the decay to become advanced and cause tooth sensitivity and toothaches. If you have pain in your smile, then let us know. We will examine your smile and if we find a cavity, we will complete treatment in only one sitting! This is also safe for kids too.
Protecting Your Smile
There are steps people of all ages can take to help lower their risk of cavities. For example, cut back on how many sugary foods and drinks we consume. You should also brush your teeth twice a day for two minutes. Make sure the toothpaste you use contains fluoride as well! Flossing every evening is also essential for removing trapped food particles, preventing cavities and gum disease too. We also recommend a visit twice a year for a checkup and cleaning. The exam lets us watch for signs of trouble and address them quickly. The cleaning removes all plaque and tartar to help protect the teeth and gums. Now is a great time to schedule one, so you can use any remaining benefits and also undergo care before the busy holiday season.
If you have any questions, then contact our team today to learn more.
Talk To Your Celina, TX Dentist's Office About Dental Fillings
We would like to help you enjoy a healthy and whole smile by addressing your cavities with a restoration. To learn more about how we address issues like tooth decay in one visit with a filling, then contact your Celina, TX, dentist, Dr. Ganjoor, by calling (214) 851-0130.