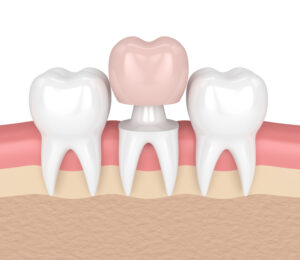 When a smile needs treatment for an advanced cavity, or a cracked or chipped tooth, then a crown may be the best option. In today's blog, your Celina, TX, dentist talks about how we make a custom approach to creating and placing dental crowns, and how we ensure they always look natural and blend with your smile.
When A Smile Benefits from a Crown
A dental crown covers the entire visible portion of each tooth, all the structure above the gum line. Which means we can use them to address serious cosmetic and restorative issues. For example, we can treat advanced tooth decay, or even infection following a root canal procedure. Placement repairs cracks and chips, and reshapes malformed tooth structure too. We could correct the damage brought on by teeth grinding, lengthening the teeth. If you have missing teeth, then our team could use these restorations to secure a dental bridge or to restore a single tooth dental implant.
Crafting Your Custom Restorations
Each one will be custom-made, which not only ensures a lifelike appearance, but a comfortable fit and good bite balance too. To begin, we will administer a local numbing agent and remove structure from the tooth. Afterward, we take detailed digital images and measurements, which will be used to create the model the restoration is crafted based on. Once the restoration is complete and color-matched for your smile, you will return to the office. We will check the fit, make any necessary adjustments, and place the crown with a powerful bonding agent. With proper care and attention, your new restoration could last for decades to come.
Keeping Smiles Healthy
To help your new restoration last, and prevent the issues that could require one in the future, be sure you take proper care of your smile. At home, this means cutting back on the sugary and starchy foods and drinks that could cause decay and infection. You also need to brush in the morning and again at night for at least two minutes. Be sure you use a fluoride toothpaste as well, since this helps strengthen the protective layer of enamel. Flossing in the evening is also important as this removes the bits of food beyond the reach of most toothbrushes. Finally, be sure you see us every six months for a checkup and cleaning. There is still time to schedule one before the year ends, which allows you to use your 2021 dental benefits before they expire.
Talk To Your Celina, TX Dentist's Office About Treating Smiles
Our team is ready to help you enjoy a stronger smile with a lifelike dental restoration. To learn more about the process of designing and crafting a set of crowns, then contact your Celina, TX, dentist, Dr. Ganjoor, by calling (214) 851-0130.