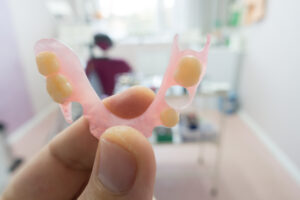 A dental bridge sometimes isn't enough to address your tooth loss. If you have more than one gap in your smile, a partial could fill the gaps and protect the rest of the smile. In today's blog, your Celina, TX, dentist talks about how we create and secure a set of partial dentures, and how to help prevent further tooth loss.
The Impact of Tooth Loss
When we lose our natural teeth, this impacts our health and our quality of life. For example, your ability to eat a variety of foods is limited, which could mean denying your favorite foods and a lowered nutritional intake. Others have trouble speaking clearly and may feel embarrassed about their appearance, which impacts social interactions. The gap could also lead to misalignment, which in turn alters your smile's appearance further and could lead to tooth decay and gum disease. Poor bite balance could also be a factor due to tooth loss, causing issues like TMJ disorder and bruxism (teeth grinding). Which is why you should seek treatment right away!
Crafting a Partial Denture
Each smile and case of tooth loss is unique, so we will custom-make the prosthetic. First, we want to examine your smile and assess the causes of your missing teeth. For some, we may need to treat underlying oral health issues before moving forward. A series of detailed images, x-rays, and measurements will be taken with digital scanning technology and used in a dental lab to design and craft the denture. The partial will have an acrylic base that looks like gum tissues, with lifelike ceramic teeth inserted into it. These teeth will be designed to blend with your smile. Metal clasps, which remain invisible when the denture is in place, will secure the prosthetic to your remaining natural teeth. On average, this removable prosthetic will last about 5 to 10 years!
Preserving Your Natural Teeth
To help protest your remaining teeth, we suggest taking time each day to brush and floss properly, which fights plaque buildup and prevents cavities and disease. You also combat plaque and tartar by wearing a healthier diet too! Be sure to see us every six months for a checkup and cleaning too, so we can help you maintain your natural teeth. If you have any questions about how we address issues like tooth loss, or about our lifelike partial dentures, then contact our team today!
Talk To Your Celina, TX Dentist About Dental Prosthetics
We want to help you enjoy a complete smile again with a custom-made prosthetic. If you would like to find out more about tooth replacement, contact your Celina, TX, dentist, Dr. Ganjoor, by calling (214) 851-0130.