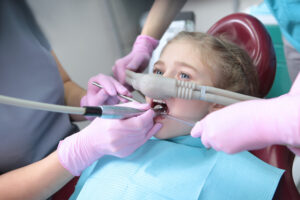 We strive to help children in our community enjoy good oral health, starting with checkups and cleanings and including preventive treatment options. But when should you bring your little one in for a visit, and should these visits involve? In today's blog, your Celina, TX, dentist talks about children's dentistry.
Starting with Checkups and Cleanings
Kids need a first checkup at around age one, and regular six months appointments starting at age two. A checkup is a chance for our team to take a close look at your child's smile, making sure teeth are erupting properly. As they grow older, we also make sure baby teeth fall out as they should, and the permanent teeth arrive properly, limiting the risk of misalignment. In addition, we watch for issues like tooth decay and treat them before they compromise your little one's oral health. With the cleaning portion, our team will remove all plaque and tartar with an ultrasonic scaling device and a manual tool. This helps limit the risk of cavities, gingivitis, bad breath, and even teeth stains.
Dental Sealants
Our team could also help limit the risk of tooth decay with a dental sealant. Kids often have trouble reaching the back teeth when they brush and floss. As a result, food particles could remain there to be broken down by bacteria, causing cavities and even gingivitis. But with sealants, we place a plastic coating on the back teeth. This prevents food from being caught between teeth, and they can last for years to come. They wear away gradually and safeguard little smiles by adhering to the most vulnerable portions of the teeth the longest.
Fluoride Treatments
We could also offer fluoride treatments to help strengthen the outer enamel and make the onset of cavities less likely. We apply this in a gel form at each checkup and cleaning visit. This helps lower the chances of cavities forming. For this reason, we also suggest fluoride toothpaste. Kids three and younger need rice-sized amounts, and those over the age of three need a pea-sized amount. At home, you should be sure everyone brushes twice a day for two minutes, and floss every evening.
If you have any questions about how we treat little smiles and keep them bright and healthy, then contact our team today to learn more. We want to help your entire family enjoy their best possible smile!
Talk To Your Celina, TX Dentist About Children's Dentistry
Our team wants to help kids of all ages enjoy strong and healthy smiles with preventive care and restorative treatments! If you would like to find out more about our approach to children's dentistry, then contact your Celina, TX, dentist, Dr. Ganjoor, by calling (214) 851-0130.