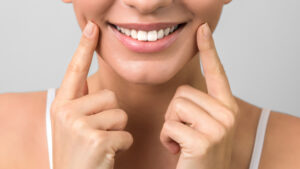 When you have issues with the appearance of your teeth, we can help with teeth whitening and porcelain veneers. But what if there's an esthetic issue with the gums? In today's blog, your Celina, TX, dentist talks about how we use laser gum contouring to reshape the gum line and improve smile beauty in only one visit.
Treating Your Gummy Smile
For some people, complications with the growth and development of the smile and jaw have led to a smile that displays too much gingival tissues. Known as a gummy smile, this could make people feel self-conscious, and the poor symmetry could mean teeth appear small, uneven, or misshapen. Swelling could also occur due to untreated periodontal disease too. To correct the issue and improve overall smile beauty, we need to reshape the gum line, which is possible with the use of advanced laser dentistry to contour the gums.
Laser Contouring
First, we will gently mark the areas that need to be corrected. We then use a special soft tissue laser, one specially calibrated for the gums, to gently remove the excess tissues and reshape the gums to improve overall balance and symmetry. The entire procedure only takes one visit to complicate. Using lasers instead of scalpels means greater precision, and no damage to healthy tissues either. There is little to no risk of bleeding and infection afterward, as the laser also destroys harmful bacteria it encounters. People rarely require any anesthesia either, and usually return to normal activities after a day of rest. We could help transform your smile, and leave you feeling more confident in social situations or when posing for a picture!
Treating Periodontal Disease
We could also use the same technology to correct more severe cases of gingivitis and periodontal disease, as the lasers can gently trim away diseased tissues and allow healthy ones to adhere to the teeth. This helps us manage the disease with simple cleanings every three to four months afterward, and protects your smile from the later stages of the disease, which are linked to adult tooth loss. You will be able to maintain a strong and healthy smile. If you have any questions about how we use this technology to improve the esthetics of your smile, or about any of our other cosmetic treatments, then contact our team today. We can also aid in the treatment of serious issues like periodontal disease, safeguarding the stability of your smile too.
Talk To Your Celina, TX Dentist About Cosmetic Dentistry
We would like to help you enjoy a beautiful smile that fills you with confidence. If you would like to find out more about transforming the appearance of your smile, then contact your Celina, TX, dentist, Dr. Ganjoor, by calling (214) 851-0130.