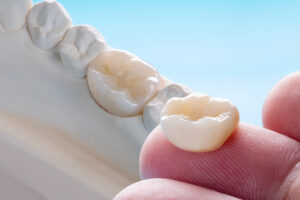 When a tooth sustains a serious injury, or develops a case of tooth decay too severe for a filling, then we could help with a custom and lifelike restoration! We have a variety of dental crown options available to return your tooth to optimal function, health, and beauty. In today's blog, your Celina, TX, dentist talks about restoring smiles!
When Smiles Need Restoration
A dental crown covers the entire visible part of your tooth, all of the structure above the gum line. Which means we can address a variety of cosmetic and restorative concerns. For example, we can repair cracked, chipped, or worn-down teeth, and treat advanced tooth decay. If a tooth is infected, a crown can complete a root canal procedure. We can use them to reshape malformed teeth too, and to correct bite balance and chewing function. For those with missing teeth, we can secure a dental bridge in place and even restore a single tooth dental implant!
Lifelike and Durable Materials
We have a number of different materials we can use to ensure your new restoration blend with your smile. For the front facing teeth, we can use all porcelain, which is translucent like tooth enamel and can be color-matched to blends with your smile seamlessly. For the side and rear teeth, which must endure greater bite forces and pressure on a daily basis, we could use porcelain-fused-to-metal and zirconia, which can be shaded to match the teeth but can handle greater levels of pressure than all-porcelain. We want you to feel proud to smile, but also enjoy optimal bite function too.
Protecting Your Teeth
To create them, we first numb the tooth and then remove a bit of structure from the tooth. We take detailed digital images of these teeth and use them in a lab setting to create a restoration that fits comfortably and looks natural. With a powerful bonding agent, we secure the crown to the teeth. With proper care and attention, they can last for decades to come and protect your smile. Actions as simple as brushing and flossing daily, eating a healthier diet, and seeing us every six months for a checkup and cleaning can help your smile stay strong and healthy, and ensure your restorations are ready to truly last.
If you have an aching or damaged tooth, or if you simply need to schedule a checkup and cleaning visit, then contact our team today to get started. We look forward to seeing you and helping you enjoy your best possible smile.
Do You Need Restorative Dentistry?
If you have a damaged or aching tooth that needs a quality, custom restoration, then please contact your Celina, TX, dentist, Dr. Ganjoor, by calling (214) 851-0130.