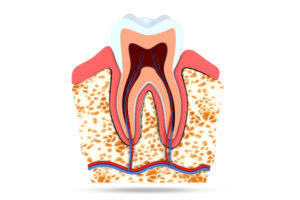 When you have an infected tooth, this could be a source of major discomfort. To bring relief and prevent tooth loss, our team could offer an endodontic procedure known as a root canal treatment. In today's blog, your Celina, TX, dentist talks about this comfortable procedure and how it offers lifelike results.
The Risks of an Infected Tooth
An infected tooth means that harmful bacteria has come into contact with the inner pulp, the collection of nerve tissues that sits at the center of your tooth and keeps it healthy and functioning. This could be caused by untreated cavities or an injury to the tooth. Without treatment, the tooth could become lost or even require extraction to prevent the spread of infection to other parts of the smile. Warning signs include tooth sensitivity when you eat or drink, toothaches, headaches, jaw pain, swelling, or a discharge from the aching tooth. If one or more of these potential warning signs sounds familiar, then let us know right away.
The Root Canal Procedure
We will first take steps to ensure you're comfortable. After we gather detailed digital x-rays to assess the position of the infection, we will administer a numbing agent and potentially sedation to help you feel calm and relaxed. We then open the tooth to access and remove the infected tissues from within. Once we do, we clean the interior of the tooth and then add a special restorative material. Finally, we cap the tooth with a dental crown, one designed to not only look natural, but provide a balanced bite too. The root canal helps save your tooth!
Preventing Infected Teeth
To lower your risk of future infections, be sure you take time to brush your teeth in the morning and again at night for two minutes each time, and use a fluoride toothpaste. You also need to floss every evening too. Try to cut back on sugary foods and drinks, as the particles could feed harmful bacteria. A visit every six months is beneficial too, so we can watch for the earliest signs of trouble and treat it before you experience discomfort. We also remove all plaque and tartar to prevent the enamel from being weakened.
If you have any questions about how we treat a dental infection, or about any of our restorative treatment options, then contact our team today to learn more. We want to help you and your family maintain good oral health!
Talk To Your Celina, TX Dentist About Endodontic Treatment
Our team can offer a comfortable solution to an aching tooth. If you would like to find out more about our options for treating decayed or infected teeth, then contact your Celina, TX, dentist, Dr. Newton, by calling (214) 851-0130.