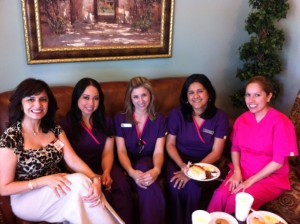 At Celina Family Dentistry, we love forming relationships with our patients to provide a comfortable dental experience. Our team acknowledges each of our patients and provides the customized dental care you need. May is Employee Health and Fitness Month, so let's take a moment to meet your Celina dental team and honor their dedication to keeping your smile healthy.
Your Celina Dentist
Dr. Newton graduated with honors from Baylor College of Dentistry Dental Hygiene Program. She decided to follow her dreams and went on to receive her dental degree and two scholastic honors awards from Baylor College of Dentistry. Dr. Newton offers preventive, restorative, and cosmetic dental services to help patients feel confident about their smiles. She stays active in the community and holds membership in the Celina and Prosper Chambers of Commerce. Outside the office, Dr. Newton enjoys cooking, watching movies, and spending time with her friends, husband, son, and two dogs.
Your Celina Dental Team
Jessica Mejia, Office Manager: Jessica has more than ten years of dental experience and has been with the Celina Family Dentistry team since 2007. As the office manager, Jessica is responsible for making sure patients have smooth and comfortable dental experiences. In her free time, Jessica loves spending time with her husband and three children. She also enjoys playing sports, coaching youth basketball, and spending time with her friends.
Marcha Lankford, Scheduling Coordinator: Marcha makes patients feel comfortable when they call our office and walk through the door. She will arrange your appointment to fit your schedule. Marcha lives in Celina with her husband, two children, and her dog. Outside the office, she enjoys crafting, watching movies, and spending time with her family and friends.
Cindy Carmichael, Registered Dental Assistant: Cindy has a passion for dentistry and works alongside Dr. Newton to provide dental care and treatments to our patients. She is available to answer all your questions and relieve your fears. In her spare time, Cindy enjoys cooking and spending time with her husband and four daughters.
Maria Ochoa Tovar, Registered Dental Hygienist: Maria received her bachelor's degree in Dental Hygiene from the University of Texas Health Science Center at San Antonio—where she graduated Magna cum Laude. She is dedicated to the dental industry by attending continuing education trainings to provide the best dental care available. She is responsible for cleaning your teeth and showing you how to maintain proper oral hygiene. In her time away from the office, Maria enjoys spending time with her husband and their Chihuahua. They are expecting their first baby boy.
Our team is devoted to helping your family achieve healthy and beautiful smiles for life. To meet our wonderful team in person, contact our Celina dentist office at (214) 851-0130 to schedule an appointment. We welcome patients from Celina, Prosper, Gunter, Frisco, McKinney, Aubrey, Pilot Point, Anna, and surrounding areas.