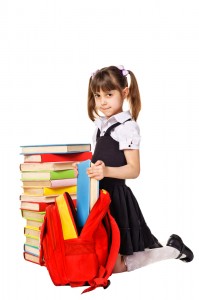 As the new school year draws near, now is the perfect time to ensure that your child's oral health is at its best. Studies show that poor oral health in children can relate directly to poor academic performance and attendance. To help you prepare and optimize your child's oral health, Celina and Prosper dentist Dr. Angela Ganjoor presents the children's oral health checklist.
Children's Oral Health Checklist
Tooth brushing and flossing—Morning time during the school year can be hectic. As you rush to get yourself ready for work and your child ready for school, you could probably use a little help to move things along. Instill in your child the habit of brushing their teeth at least twice a day, especially in the mornings before school. Be sure to show them the proper method of softly brushing every surface of every tooth. Discourage them from scrubbing harshly, which can quickly wear away tooth enamel. Flossing can usually be saved for the time right before bed, but you should teach your child to this alone, but properly, as well.
Diet—While sugar greatly increases the risk of developing cavities, other foods are responsible for tooth decay as well. Foods high in calories, sugar, and carbohydrates provide the bacteria in your mouth with fuel to synthesize acid, which attacks your teeth and enamel and begins the process of tooth decay. Dr. Ganjoor advises packing your child's lunches for school, and to check the nutrition labels on all food to avoid excessive sugar and acid content.
Dental visits—Even with the most disciplined diet and oral hygiene routine, you must bring your child to the dentist's office at least once every six months for a comprehensive dental checkup and cleaning.  In some cases, Dr. Ganjoor may recommend a more frequent attendance schedule, which should also be adhered to.
By ensuring your child's oral health is at its best, and teaching him/her to maintain it that way, you can prepare your child for a lifetime of bright, healthy, and happy smiles. For more information on your child's oral health, schedule an appointment with Dr. Ganjoor at our Prosper dentist office by calling (214) 851-0130. We serve patients of all ages from Celina, Prosper, McKinney, Frisco, Anna, Pilot Point, and the surrounding areas.