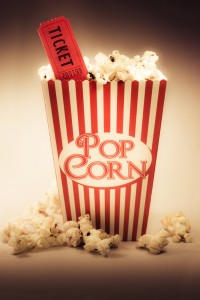 When the smell of popcorn fills the air, thoughts of the cinema are sure to come to mind. Whether people are at home, or at their local theater, salty, buttery popcorn remains to go-to snack for movie watchers. Many problems seen at dental offices around the country are caused by this tasty, salty treat.
What is a Popcorn Abscess?
An abscess is an oral infection caused by bacteria, and it usually starts as a cavity or infected tooth. Continuous poor oral health can result in abscess development, and so can eating popcorn. Most people are familiar with popcorn husks being stuck in their teeth, but few realize the potential impact that little husk can make.
Although husks can usually be removed with efficient flossing, some husks dig deep. Lodging themselves between the gum line and teeth, popcorn husks don't dissolve with time. Unfortunately, once a husk embeds itself in the gums, it could cause an infection or abscess. Pain, discomfort, and illness can occur if the abscess progresses.
Crazy Kernels Cause Cracking Chaos
Reaching into a tub full of popcorn without looking is a commonplace occurrence in theaters. Why would anyone shift their focus away from the screen to monitor their popped-to-unpopped kernel ratio? A simple glance could save you a trip to the dentist. Popcorn can legitimately crack teeth.
Many people simply throw handfuls into their mouth, unaware that an errant unpopped kernel could wreck their day. Healthy teeth are hard and strong, but popcorn kernels can still win the battle of tooth vs. corn every now and again.
Time for an Appointment
Are you interested in learning more about the hidden dangers of food? If so, Dr. Newton can answer your questions. After all, popcorn isn't the sole tooth offender on the block, and knowledge is power. At Celina Family Dentistry, we provide comprehensive dental care for our patients, as well cosmetic, and restorative dentistry. Schedule an appointment with our 75009 dental office by calling (214) 851-0130 today. We proudly serve patients from Celina, Prosper, and neighboring communities.