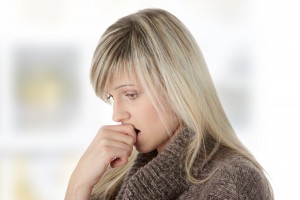 About 75% of American adults suffer from dental fear or dental anxiety. Accompanied by feelings ranging from unease and nervousness to nausea and full-blown panic, dental fear and anxiety prompts many people to avoid visiting the dentist for years. Often, fearful patients wait to seek dental treatment until their oral health has reached a point where only invasive, emergency procedures can correct the problem. Your Celina family dentist, Dr. Angela Ganjoor, discusses three solutions for helping fearful or anxious patients.
Nitrous Oxide, or Laughing Gas
Ever since dentist Horace Wells performed the first dental procedure using nitrous oxide in 1844, millions of dental patients have enjoyed the calming effect of the gas commonly known as laughing gas. Administered through a mask that fits over the nose, patients describe the feelings produced by nitrous oxide as giddy, happy, calm, and euphoric. Many children tend to feel nervous about even very simple procedures, such as placing a composite filling, and nitrous oxide makes an especially ideal solution for helping them feel at ease. One of the many benefits of nitrous oxide includes the ease with which its effects wear off. About five minutes after removing the mask, most patients feel perfectly normal and can return to their daily activities.
Oral Conscious Sedation
For people with dental fear or anxiety who need more complex procedures, such as root canal therapy or even cosmetic dentistry like laser gum treatments or porcelain veneers, oral conscious sedation offers a deeper sense of relaxation. Patients take a pill containing anti-anxiety medication about an hour before their appointment. Once the pill takes effect, patients feel profoundly calm and at ease for the duration of their procedure. The effects of oral sedation medication will linger for several hours after the procedure, so patients must arrange for a trusted friend or family member to escort them home and stay with them until the groggy, "out of it" feeling has subsided.
Psychological Approaches to Dental Fear and Anxiety
Often, dental fear and anxiety are based in a patient's fear of the unknown. They do not know what to expect from a dental visit or they have seen or heard scary stories about what happens at the dentist's office. Combating this type of dental fear can be as easy as providing a pleasant, inviting waiting room with amenities such as a beverage station, magazines, or a play area for children. Having friendly, smiling front office staff, hygienists, and dental assistants can also help alleviate nervousness. Other dentists like to educate their patients about what to expect from their treatment, thus removing the sense of mystery and unknown.
Caring for Fearful or Nervous Patients
Dr. Angela Ganjoor offers several options to help her anxious or fearful patients receive the care they need. You can reach our 75009 dental office at (214) 851-0130. We are happy to serve people in Celina, Prosper, and surrounding communities.