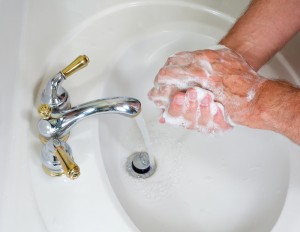 Studies show, that oral health is closely tied to overall health. If you become sick, your gums and teeth can suffer. As we move into cold and flu season, maintaining good hygiene becomes even more important. During National Handwashing Awareness Week, your Prosper dentist, Dr. Angela Ganjoor, provides you with tips to make sure your hands stay clean and you stay healthy. You may consider handwashing a simple, unimportant task. However, the Centers for Disease Control says, clean hands save lives.
Wash Your Hands Often
Germs and bacteria are everywhere—in the air, on people, and on the surfaces of everything you touch. You cannot help but come in contact with germs. Furthermore, germs can easily transfer between whatever you touch and your hands. Germs are a part of living on planet earth. However, germs that transfer diseases could change your life for the worst. Cold and flu germs make life temporarily miserable, but germs that transmit hepatitis C and West Nile virus claim lives.
While, short of always wearing gloves, there is nothing you can do to keep germs off your body, you can easily remove them with frequent handwashing. Don't hesitate to wash your hands frequently throughout the day so that germs will go down the drain instead of into your body.
When many people wash their hands, they quickly swipe their fingers under cold running water, then go on their way. While that's better than nothing, it won't come close to removing the germs on your hands. Use hot water and soap, and thoroughly scrub your hands for at least 20 seconds. Use your fingers to wash between fingers on your opposite hand, and wash all the way up to your elbows. If you have long fingernails be sure to clean them under hot water, with soap, as well.
Your Hands and Your Mouth
You may not realize how often your hands come in contact with your mouth and face throughout the day. Rubbing your eyes, itching your nose, and popping a mint into your mouth become potentially dangerous activities if your hands harbor nasty germs. These little tasks that you may not even think about can transmit germs directly into parts of your body that have direct access to your blood stream.
While you're out shopping, dining, and celebrating this season, take a few moments to wash your hands every two to three hours. At Celina Family Dentistry, Dr. Ganjoor and our team want you to stay healthy throughout the holidays. Time for your checkup and cleaning? Call 214-851-0130. Our comprehensive dental care office near Prosper offers restorative, preventive, and cosmetic dentistry for children and adults. We serve families from Celina, Prosper, McKinney, Frisco, Anna, Pilot Point, and the surrounding areas.