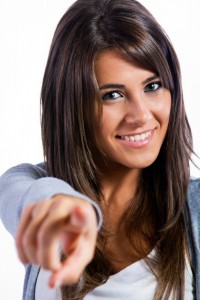 'Tis the season for celebrations, and you'll want to look your best for every party, dinner, or various other gatherings. Preparations often include visiting a barber or beauty parlor for expert grooming, but what about dressing up your smile for the holiday revelries? A bright and confident smile is the perfect complement to any outfit, and confidence in your smile is essential for pulling it off. Make sure your smile is one to be proud of with these smile beauty tips from your Celina and Prosper dentist, Dr. Angela Ganjoor.
A Whiter, Brighter Smile
Stained teeth are one of the most common complaints among people who are dissatisfied with their smiles. Your teeth can stain for a number of reasons, from the food you eat to the habits you practice. Even some medications for certain illnesses can result in tooth discoloration. If stains mar your smile, we offer a tooth-whitening system that'll fit right into your hectic holiday schedule. Our LumiBrite in-office tooth-whitening system can significantly reduce the time required to effectively brighten your smile by combining a desensitizer with a specialized, professional-strength whitening agent. Our in-office treatment can brighten your smile up to ten shades in as little as one hour, and you can leave the office the same day with your smile shining brightly.
A Healthy Smile
While tooth-whitening and other cosmetic procedures can help you improve the look of your teeth, your smile requires a strong and healthy foundation to maintain its appeal. Be sure to brush your teeth at least twice a day using a soft-bristled toothbrush that has been approved by the American Dental Association (ADA). Floss your teeth at least once a day, preferably before bedtime, taking care to thoroughly clean between every tooth. Every six months (or sooner, if directed), visit your Celina dentists office for a routine dental checkup and cleaning, which will allow Dr. Ganjoor to inspect your mouth abnormalities that can indicate the early signs of infection or disease. Early detection can vastly improve your chances of successful treatment should, treatment be deemed necessary.
Family Dentistry in Celina and Prosper
For more information on how to put your best smile forward this holiday season, schedule an appointment with Dr. Ganjoor at our Prosper dentist office by calling (214) 851-0130. Located in the 75009 area, we serve patients of all ages from Celina, Prosper, McKinney, Frisco, Anna, Pilot Point, and the surrounding areas.