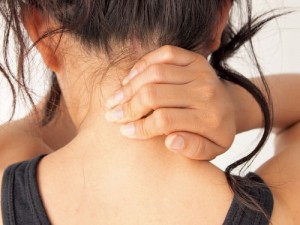 Does your neck ache and feel sore? Do pain relievers do little to combat the pain in your neck? Constant neck pain is frustrating, and may actually be a sign that you are suffering from a more serious issue. Your Celina family dentist, Dr. Angela Ganjoor, explains the causes of TMD and how this disorder contributes to chronic neck pain.
What is TMD?
TMJ disorder, which is also known as TMD, affects the temporomandibular joint. This joint connects the jaw to the skull and is responsible for the movement necessary to eat, talk, and yawn. TMJ occurs when the jaw is misaligned.  Many times this is due to bruxism, or teeth grinding. People who suffer from TMD many times experience neck pain. Common symptoms of TMJ disorder include:
Grinding or clenching your teeth
Popping or clicking sound during jaw movement
Tinnitus, or ringing in the ears
Neck pain, headaches, and earaches
Treatment from Your Celina Dentist
While TMJ is a painful dental problem, treatment is available. Bruxism, a leading cause of TMD, is normally a result of increased stress or anxiety. Reducing day-to-day stress will alleviate symptoms of TMJ. Patients should also avoid chewing hard foods, especially gum, as these items require a repetitive motion that strains the jaw.
At Celina family dentistry, Dr. Ganjoor offers further treatment for people suffering from severe TMD. Our treatment options include:
Oral Appliances: Our nightguards help reposition the jaw to ease muscle strain and stop patients from grinding their teeth while they sleep.
Over-the-Counter Medications: Common anti-inflammatory medications don't treat TMJ, but they provide relief from the soreness and pain.
Strengthening Exercises: We educate patients on several simple exercises to strengthen joints and help relax your neck muscles.
Hot and Cold Therapy: Alternating between using warm and cold compresses eases pain from muscle spasms.
Schedule an Appointment with Your Celina Dentist
Do you suffer from symptoms of TMJ disorder? Contact Dr. Ganjoor today! Schedule an appointment with our 75009 dental office by calling (214) 851-0130 today. Located in Celina, we proudly serve patients from Prosper, Frisco, Allen, and neighboring communities.