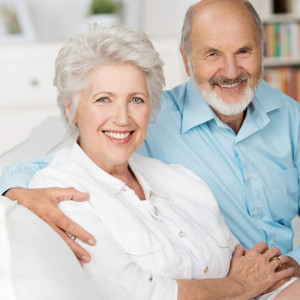 If you already wear dentures, you probably had to take some time to adjust to the feeling. Perhaps they still aren't the most comfortable part of your body. In fact, dentures can even become uncomfortable after you've worn them for years. As you age, the structure of your jawbone will change, and unfortunately sometimes lose substantial density. Dentures can start to slip around and require adjustments. Celina dentist, Dr. Angela Ganjoor, can enlighten you on the causes and solutions of some of the most common difficulties experienced by denture wearers.
Irritation from Dentures
One of the most common complaints of people who wear dentures is simply a lack of comfort. If your dentures make your mouth feel sore, poked, or raw, you most likely have an improper fit. Modern traditional dentures rely on suction to stay in place. This is great because you shouldn't have to rely on messy, sticky adhesives. Unfortunately, when dentures don't fit securely, suction will not be enough to keep them from slipping. As the acrylic and porcelain slide around and press against your delicate mouth tissues, you are likely to feel quite irritated.
Speech Issues from Dentures
Difficulty speaking is another side effect of ill-fitting dentures. Having your words come out of your mouth mumbled or slurred can be nothing short of embarrassing. This can also make it very obvious that you are wearing dentures. Luckily, just as with irritation in the mouth, speech problems that happen due to dentures can usually be traced back to an improper fit. Periodic adjustments remain a simple fix. However, if denture issues are getting the better of you, you may want to consider the more secure tooth replacement method of dental implants.
Replacing Missing Teeth in Celina
For more information about replacing missing teeth, contact our Celina dentist, Dr. Ganjoor. At Celina Family Dentistry, we offer dental implants, partial dentures, and full dentures in addition to dental bridges. You can call our 75009 dental office at (214) 851-0130 to schedule an appointment. We welcome patients from Celina, Prosper, Gunter, Frisco, McKinney, Aubrey, Pilot Point, Anna, and surrounding areas.